The Marriage Of The Contemporary And The Classic
The farmhouse located in the plush neighbourhood of sprawling farm houses in New Delhi's upscale Chattarpur, and designed by Beyond Designs is built on a 16,000 square yards space. It belongs to a young couple in business, who love to party and entertain.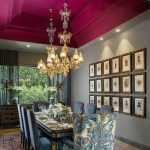 The ground floor consists of the entry foyer and central atrium with a grand winding staircase, a living room, dining room, cigar room, bar room, powder room and the kitchen. The first floor houses a family room with a small pantry and three bedrooms.
The farmhouse is surrounded by a beautiful garden. It has an existing gazebo, bar and a pool. Since the couple entertain a lot, we spruced up the gazebo as well. The interiors of the house includes end-to-end creation of all furniture, decorative lights, artworks, sculptures, furnishings and accessories.
The art pieces and sculptures are custom-created and some are sourced by Beyond Designs. The upholstery came from Beyond Designs Home. Except the hanging lights in the atrium, all lights/ chandeliers were designed by Beyond Designs.
The farmhouse is done according to a signature luxe style, which is a melange of contemporary and classic Indian and European decor, arts and crafts. It showcases the typical style of rich and complex layering of design elements with opulent accents in the most dazzling fashion.