Neutral colour palette and exotic textures to enamour
The Vadhars approached architect Gaurav Kharkar of Gaurav Kharkar and Associates with lot of enthusiasm to design their dream abode with four bedrooms, a lounge room, decks, living, dining and kitchen. The owners wanted a modern, spacious and clutter-free house where they could feel involved and which would emanate a strong personality.
The house flaunts lot of different textures, exotic as well as rustic materials, design forms and colours. Every room speaks a different story – each room has different colour and material palette, yet the transion from one room to another room looks effortless and has a harmonious approach to it.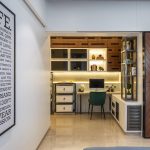 The living area accommodates maximum seating capacity with different upholstered sofa and lounge chair. It oozes a vibe of elegance and classiness. The grey themed dining area is soft with shades of grey – with an entire lengthy wall finished in grey concreate with an interesting clock hung on it that commands attention.
The master bedroom is an eclectic mix of contemporary ideas put together by using different materials, quirky cushion covers, and colour pops against the white backdrop. This room comprises of three zones within a room – a long passage leading to the walking wardrobe area and master bathroom on one side – towards the bed area there is a study zone, which has some beautiful racks to display books and collectables.
The play of concrete,veneer, Italian marble, rustic tiles, art work and neutral colour hues against the colour pops have come togather to give a strong sense of identity to this beautiful house indeed.