An eccletcic combination of functionality and comfort
A 1,700 sqft Mumbai flat belonging to Rahul Tuljapurkar in the suburbs of Bandra, designed by Rohit Bhoite in a Nordic Scandinavian style and photographed by Sameer Chawda, is a practical living space. The use of light is to the maximum luminocity and the house is characterised by the use of earthy muted tones distinct materials and minimal ornamentation.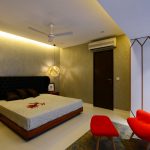 Rohit Bhoite's plan for the house was well fleshed out for the living room. When it came to the colour palette, white was the predominant hue. Artificial marble cutouts were used to create an interesting pattern on the living and dining area floors. And grey grouting has been done to achieve a shimmery effect on the flooring as well. Keeping with the Scandinavian theme, the designer has used statement pieces from Italy, Turkey and Australia in the living room with wood at its base.
The dining area too has a similar language. The grey linen wallpaper continues down the length of a wall in the dining room creating symmetry between the two spaces. The custom made wooden fan, table and chairs add to the warm yet simplistic vibe of the space.
The master bedroom has a comfortable walnut wood bed with a leather-padded headrest and a full-length wardrobe – with the absolute highlight being the bespoke elements especially created for the young couple. The jute and the silver textured wallpaper, Tom Dixon copper lights, stark red lounger and Superman artwork, all together create an interesting composition, merging different styles into one cohesive whole.