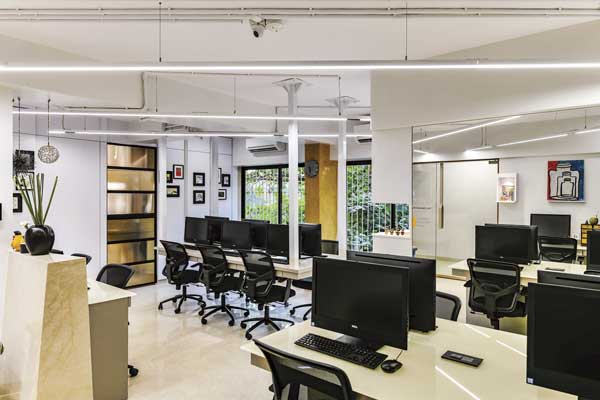 Creating an office space that's unique, colourful and equally functional is no easy task.
Impressions: BENOY SEBASTIAN

Office is a place where work has to be done in a perfect manner with stringent deadlines and immense pressure. In such a stressed environment, if the office interiors are beautiful and pleasant, attractive and comfortable; then there is a possibility that you will feel recharged, energised and get back to your creative self. The interiors of an office should be designed such that it helps in increasing your efficiency and productivity, and also helps in the organisations growth. Besides, keeping in mind employee preference, an office interior design is important for a better reason – it directly impacts employee productivity, which directly affects the organisation's bottom line. Ideally, the workplace should be a space that allows people to focus and concentrate whenever needed, and to collaborate and communicate whenever needed.
You also want a workplace that is physically and mentally comfortable so that employees can perform and function at their best. This is what today's modern office design trends are striving to achieve. Anuradha Aggarwal, Creative Director, Olives Cre puts it this way, "Every organisation demands a specific ambience that will complement its business culture and employees' expectations from their work space. The look and feel of the office space fuels productivity and revitalises the work force throughout the day. This makes it extremely important to create office spaces that are not only striking, but also enhance creativity and productivity of the employees. Factors like balanced colour schemes, space availability, a touch of flaura in the work environment definitely help in reducing the stress levels and establish positivity. It's important to create something functional and appealing."

Warmth, openness and dynamism set the mood for the office. Infusing colours into the office inspires the design concept where a plethora of colours like orange, green, yellow should be set against the neutral all over the office. Textured walls, grey-matte tiles on flooring with other fine details on the door gives a boost to the mood. A colourful sofa will make the entrance area chic.
An eye soothing, simple and effective workspace with flawless approach is the need of the hour. A big trend in office design that is gaining momentum is the concept of a workplace that resembles a home away from home. From bright and comfortable sofas to recreational swings to colour coded tables to lounge areas – the idea is to make the workplace as much relaxing and stress-free as possible. The idea is also to provide areas where employees can take short breaks to give their bodies and minds a rest so that they can recharge and remain productive throughout the day. Finally to sum it all up, the modern offices can become happy mediums between work and play.