A prominent artist of India, and often highly regarded as a man of vibrant spaces, Thota Vaikuntam stands apart with his distinctive body of work as a painter
Impressions: Benoy Sebastian
Adding to Vaikuntam's charisma is his endearing modesty. Painting beautiful images of women or by redefining
the notion of beauty itself, Vaikuntam articulates the meaning of feminity and ethnic cultural identity. The ordinary attire of the rural people, their jewellery and everyday life is the visual vocabulary for him.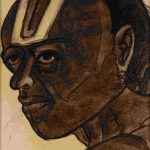 He says, "We are decorative by nature. Men or women, we love to adorn ourselves with ornaments, with flowers, with clothes, bindis and cosmetics." It is interesting to see how the artist deconstructs the richly embellished form with heavy distortions. The sinuous lines and dots in the saree of the Telangana women, the exuberant colours and earthy skin tones are very much part of his nostalgic childhood and he remains bound to it.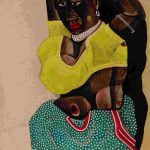 Although Vaikuntam draws inspiration from Indian art and rural folk traditions, his quintessential subject matter is none other than the rural people of his native land – Telangana. His art reflects the ethnic identity and pragmatic representation of people whom he was acquainted with. During his formative period, he created monochromatic visual repertoire in order to understand the nuances of his native culture.
This very enterprise enabled him to grasp the sense of belonging and virtue of his own identity within a larger collective consciousness. Early in his career, Vaikuntam made several charcoal drawings of human figures. He continues to paint native women with their real names as his titles. He asserts, "I always liked drawing and sketching the image of my mother, who belonged to a traditional Marathi Vaishya family with her enormous bindi, typical earring (gentelu) and flowing lines and curves in the saree. Eventually, this imagery became a prototype for heavily embellished women in my art."