How many of us actually pay attention towards the staircase that adorns our living rooms. Most of us believe that the space under the staircase is of no use. However, we are wrong. It's time to change our thinking and our thought process. To maximise space in your home, it is a good idea to utilise under stairs storage space solutions.
www.tiffanyhankendesign.com
It will help to de-clutter and create functionality in an otherwise unused space. There are many ways that you can use the area underneath the stairs, from bookshelves to home offices to even bathrooms and the laundry area. There is a saying – the sky is the limit to how you can utilise under stair spaces. If you have a decent enough hallway zone, a good idea would be to fit a wardrobe there.
www.irastar.com
It would be perfect for seasonal clothing, footwear, hat, and even footwear. The wardrobe can have open shelves or cabinets with doors for aesthetic purposes. You could also put a compact bench or a chair with a small table there. Have a lot of books and don't know where to store them? Your stairs are perfect place to put them in.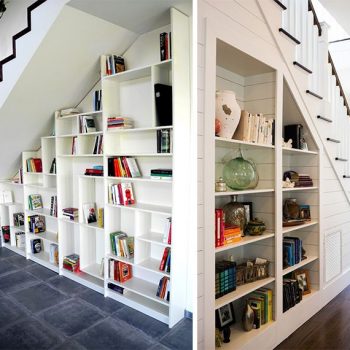 www.ecolinewindows.ca
Staircases can look beautiful on their own, but, if you add a functional bookcase, it will create a unique statement piece. You can also use your staircase as drawers to store clutter or seasonal clothing.