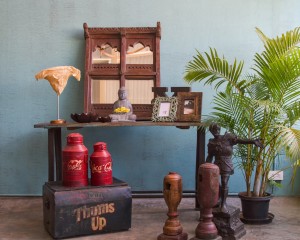 The next time you are looking to pick up an 'out of the ordinary' lighting solution, or a piece of 'conversation starting' furniture, the Bengalurubased The Purple Turtles store is the place to stop by.
The Purple Turtles was conceived to address the need for an out-ofthe- common decorative lighting destination in Bengaluru. "I was involved in doing home makeovers for my friends when I noticed that home stores in Bengaluru did have a collection of international designs on display, but failed to provide any real platform for Indian lighting designers, or even for those interested in getting into the field.
I also realised that the lights were either very expensive or mass produced in China. Th at's when it struck me that the mid-segment is where the sweet spot was," explains owner, Raadesh R Shetty.

Today, The Purple Turtles has emerged as the only store in the city that successfully throws spotlight on a whole range of Indian designers and their versatile repertoire. The Purple Turtles offers a wide range of selection when it comes to lighting, says Raadesh. "We work with pretty much every material possible form-glass, fabric, paper, metal, fibre and so on. We also offer quirky and unusual furniture pieces in colour distress, metal and wood-finish.
These furniture pieces are handpicked from across corners of the country and carefully restored or recreated using the best of artisans. The lighting in the store is segregated material wise and the furniture is set up to form interesting settings." The Purple Turtles is today more than just a store; it's an 'art gallery', which gives domestic designers a platform to unleash their talent.