If the charm offensive of the interior design industry was unleashed at the start of the 21st-century boom, it has taken the pandemic to make it strike out in all directions.

As an architectural and interior designer, I always welcome and encourage in my studio Villa Ortiga, Delhi, India, a new kind of learning while aspiring to establish Villa Ortiga as an innovative and prominent, trendsetting studio in the country! Home to some of the most capable human resources in the world, it is no wonder that the Indian interior design industry has begun to score globally in the production of exceptionally-crafted furniture and decorative objects that signal India's 2500 year old fascination with forms and their significance.
Diversity of our geographic regions assure surprises for even the most habit-ridden colonials and postmodernists. What is refreshing is that the Interior Designer now does not come in last to save sometimes bad architecture but heads the design project as a powerful and transformative adjunct from the very beginning.
So powerful is the need for people with spending means to find good, honest guidance in the planning of their indoor design vicinity now, knowing that the outdoors will be restricted for years to come. This drives my team to scour countries from East to the West for the newest materials, technologies and, of course, entertainment and fashion trends to incorporate in our inspirations. I like to think I'm constantly streaming designs for today, and ideating for tomorrow!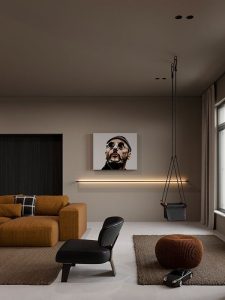 Given the times we live in, my prediction is that home entertainment and hosting at home will propel the next notable trends in the interior design industry. As with the other industries, problems of capital, supply chains, etc., will continue to exist but its synergy with Indian crafts and iconic art will see some designs solutions that creatively marry the past and the future.
My sincere hope is that going forward imports will be encouraged, along with localised high quality production of furniture using materials such as reinforced glass and decor pieces using wood and metal both; useful equally in the design and durability of the furniture and products.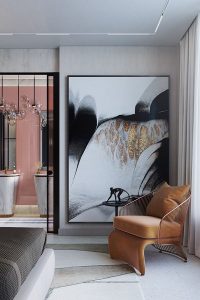 While we may not be able to fund research and innovation in 3-D print technology yet, we love to ponder its use and adaptation in the near future, and sooner rather than later use it in our interior designs as well! On a similar note, the turnabout in 2021 will comprise more turnkey projects; integrating furniture, art, lighting and material finishes in a way that's never been seen before!
The future of Interior Design will be promoted as a business tool, a versatile blueprint to motivate people, modify behaviour, excite consumers and ensure goodwill, while also building intimate spaces for people. Spaces that they can proudly call their own.