The legendary artist, scholar and teacher KG Subramanyan, who passed away this year, has been closely associated with the Sakshi Gallery in Mumbai, with the showcase of his monumental mural, Wars of the Relics in 2013, and most recently an exhibition entitled Remembering K.G. Subramanyan in collaboration with The Seagull Foundation for the Arts this month.
With the intention of paying tribute to the contemporary artist, it featured reverse paintings and gouache drawings, all executed in 2015. "These are paintings and drawings that Subramanyan did in the last year of his life. The works become all the more significant on account of the fact they are some of the very last pieces he painted before passing away at the age of 92. The works have the same vibrancy of colour as well as the intensity and vigour of the strokes that he is so well known for," says Geetha Mehra, director at the gallery and who has collaborated with the artist over many years.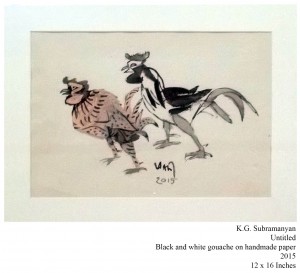 When asked about what was most integral to this artist, she talks of his deft strokes, the cynical and wry humour and hints of satire that are glimpsed at in his myriad subjects which cover mythology and everyday life unfolding in the secrecy of interiors and lush landscapes.

"His generosity as a teacher, his integrity and Gandhian ideology made him stand apart. His understanding of history, politics, art, culture and handicrafts were all integrated into his art in subtle ways," Geetha elaborates,  sharing her experience in interacting with this artist.