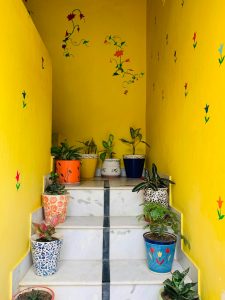 Image Credit- Yashika Bisht (Insta: @palasah_jivika)
Curiosity bashes all the plant fanatics when it comes to the maintenance of their beloved greens. From browning of leaves to the problems with the soil – various problems might adversely affect the plant's fortune. Of course, one might not provide all the required amenities for their foster, but some crucial care tips and futuristic considerations can surely optimize the care routine.
According to Vinayak Garg, Founder of Lazy Gardener, the right amount of lighting is very crucial for a plant's health. Certain signs that show that the plants are not getting enough sunlight are leaning, discoloration and abrupt growth. Indoor plants must be chosen in such a way that they are fine with indirect sunlight, that can be more than enough for feeding the growing ones. If not, one can make use of artificial lights like bulbs or fluorescent lights as well to aide their care. Also purchased plants, which were probably grown in a greenhouse under ideal conditions, require a lot of adjustment which can make them dull and sometimes intolerant.
Image Credit- Lazy Gardener (Insta: @lazygardener.in)
Repotting plants is another area of concern. Architect turned Architectural Photographer and Founder of Uplifting Depictions Prachi Khasgiwala points out, "Whenever the plant is root bound or the roots are overcrowded in the container or are coming out through the potholes or if the roots get matted on the top surface of the soil,its time to repot. So, if you slip the plant out of the container and you see more roots than the soil,you should change the pot and switch to a bigger sized pot. Plants typically need to be repotted every 12-18 months and the best time to repot most plants is when they are actively growing in spring or summer, avoid repotting during monsoons."
Image Credit- Prachi Khasgiwala (Insta: @upliftingdepictions)
Also what can be an oops moment as well is if the plants selected are not fit for indoors. Pick up the right species as per the existing circumstances or get to know your plant adequately so that a proper environment can be devoted for them. It's not actually that difficult to keep the house plants happy if we choose them wisely. Urban Gardener, Upcycler & Decor Enthusiast Kopal suggests some plants which can survive that week long vacation that you plan on taking-
1) Snake Plant (Dracaena Trifasciata)
2) ZZ Plant (Zamioculcas Zamiifolia)
3) Chinese Evergreens (Aglaonema)
4) Ponytail Palm (Beaucarnea Recurvata)
5) Lady Palm (Raphis)
6) Rubber Plant (Ficus Elastica)
7) Crown of Thorns (Euphoria Milli)
8) Cactus and Succulents
9) Jade Plant (Portulacaria Afra)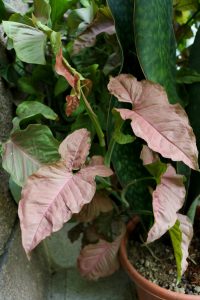 Image Credit- Kopal (Insta: @witch_crafts)
Although one might be a pro in the garden yet hesitance is natural when translating skills to window sills. But adding mother nature to the home enables happy hunkering at home. Some misconceptions like misting plants increase humidity, plants grow bigger in bigger pots, greens not safe for pets etc, needs to be punctured.
Discussing the fictional side of things, Visual Arts Enthusiast Aprajita Bansal remarks, "People get scared when the leaves of their plants turn yellow. Yellow leaves are not always a sign of dying. Sometimes leaves turn yellow because they are old. If you see one or two yellow leaves on your plants, just remove them. And the other misconception that most of the people have is that they need to follow a proper schedule when it comes to watering the plants.
Image Credit- Aprajita Bansal (Insta: @heyaprajita)
No one can define a watering schedule for your plants. Every plant's requirements are different in different weather conditions and locations. The best way to know if your plant needs water is by digging your finger into the soil and to check if the top inch of the soil is dry. Only then water your plant." Nevertheless, indoor plants are always a boon for sprucing up any space, a refreshing addition with air purification benefits. In places with diverse yet tropical climatic conditions like India, plants are saviours. "India has huge geographical variation, and plants will differ in every location based on the climate. A plant which does well in South India throughout the year might go dormant in North India during harsh winters. Naming few houseplants suiting Indian climate, Xanadu, Peace Lily, Rubber Plant, Pothos, Song of India , Pink Aglaonema, Areca Palm, Snake Plant." says Yashika Bisht, HR Professional & Plant Enthusiast. It's said that the plants have enough spirit to transform our limited vision – follow some thumb rules for these companions and you are good to go!