Kenneth Cobonpue….
Your thoughts on how furniture pieces accentuate the design of a home…
Th e furniture and design elements in your home are expressions of your taste and lifestyle. Th e pieces we live with not only determine how we entertain, relax and move, but also tell who we are.

Tips on accentuating homes with the right furniture pieces…
Functionality is always important to consider. My collections may seem extravagant and whimsical because of the form and materials, but every element in the design is there for a purpose.
Furniture ages with time, advice on maintenance of furniture…
It is important to have an understanding of the materials that make up a piece of furniture to prevent untoward damages, so that the pieces can last a lifetime.

Your thoughts on eco friendly  furniture designs that are catching up…
I am happy to know that a lot of designers are becoming more conscious of the environment and I hope it stays this way. I am still committed to creating designs in the most sustainable processes, to show the world
that there is an environment friendly solution to absolutely everything that we do and we don't have to look far to fi nd it.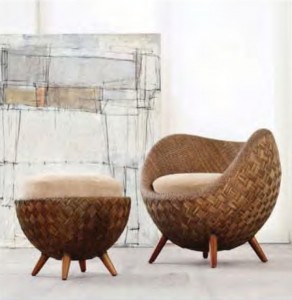 Furniture design trends you foresee for the future…
People want pieces that are unique and special in a way that they are craft ed individually using green materials and not machinemade. Innovative, eco-friendly designs will still be in trend, as the environment is a very important consideration.