It almost goes without saying that concrete is the new trend in Interiors. From statement walls to textured floors, these grey designs have now become a focal point. Convincing and off beat, let's check out these phenomenal designers have dedicatedly justified concrete to be one of the best choices in decor!
Expression of Opulence
"𝐓𝐡𝐞 𝐌𝐨𝐝𝐞𝐫𝐧𝐢𝐬𝐦 𝐦𝐨𝐯𝐞𝐦𝐞𝐧𝐭 𝐢𝐧 𝐭𝐡𝐞 𝟏𝟗𝟔𝟎𝐬 𝐠𝐚𝐯𝐞 𝐫𝐢𝐬𝐞 𝐭𝐨 𝐮𝐬𝐢𝐧𝐠 𝐭𝐡𝐞 𝐞𝐱𝐩𝐫𝐞𝐬𝐬𝐢𝐨𝐧 𝐨𝐟 𝐞𝐱𝐩𝐨𝐬𝐞𝐝 𝐜𝐨𝐧𝐜𝐫𝐞𝐭𝐞 𝐢𝐧 𝐢𝐧𝐭𝐞𝐫𝐢𝐨𝐫𝐬. 𝐂𝐮𝐫𝐫𝐞𝐧𝐭𝐥𝐲, 𝐭𝐡𝐞 𝐰𝐨𝐫𝐥𝐝 𝐢𝐬 𝐬𝐞𝐞𝐢𝐧𝐠 𝐚 𝐦𝐨𝐯𝐞𝐦𝐞𝐧𝐭 𝐭𝐨𝐰𝐚𝐫𝐝𝐬 𝐬𝐢𝐦𝐩𝐥𝐞𝐫 𝐚𝐧𝐝 𝐬𝐥𝐨𝐰 𝐥𝐢𝐯𝐢𝐧𝐠, 𝐚𝐧𝐝 𝐟𝐨𝐜𝐮𝐬𝐢𝐧𝐠 𝐨𝐧 𝐰𝐞𝐥𝐥𝐧𝐞𝐬𝐬. 𝐂𝐨𝐧𝐜𝐫𝐞𝐭𝐞 𝐢𝐬 𝐭𝐡𝐮𝐬 𝐛𝐞𝐢𝐧𝐠 𝐬𝐩𝐨𝐭𝐭𝐞𝐝 𝐚𝐜𝐫𝐨𝐬𝐬 𝐚 𝐡𝐨𝐬𝐭 𝐨𝐟 𝐧𝐞𝐰𝐞𝐫 𝐩𝐫𝐨𝐣𝐞𝐜𝐭𝐬 𝐭𝐡𝐚𝐭 𝐭𝐚𝐥𝐤 𝐨𝐟 𝐬𝐢𝐦𝐩𝐥𝐢𝐜𝐢𝐭𝐲 𝐢𝐧 𝐥𝐢𝐯𝐢𝐧𝐠 𝐚𝐧𝐝 𝐛𝐞𝐢𝐧𝐠 𝐦𝐨𝐫𝐞 𝐭𝐫𝐮𝐞 𝐭𝐨 𝐭𝐡𝐞 𝐦𝐚𝐭𝐞𝐫𝐢𝐚𝐥𝐬. 𝐈𝐧 𝐭𝐡𝐞 𝐩𝐫𝐞𝐬𝐞𝐧𝐭 𝐬𝐜𝐞𝐧𝐚𝐫𝐢𝐨, 𝐜𝐨𝐧𝐜𝐫𝐞𝐭𝐞 𝐢𝐬 𝐢𝐧𝐜𝐫𝐞𝐚𝐬𝐢𝐧𝐠𝐥𝐲 𝐛𝐞𝐢𝐧𝐠 𝐮𝐬𝐞𝐝 𝐰𝐢𝐭𝐡 𝐦𝐨𝐫𝐞 𝐟𝐢𝐧𝐢𝐬𝐡𝐞𝐝 𝐚𝐧𝐝 𝐨𝐩𝐮𝐥𝐞𝐧𝐭 𝐬𝐮𝐫𝐟𝐚𝐜𝐞𝐬 𝐭𝐨 𝐜𝐫𝐞𝐚𝐭𝐞 𝐚 𝐬𝐞𝐧𝐬𝐞 𝐨𝐟 𝐜𝐨𝐧𝐭𝐫𝐚𝐬𝐭 𝐚𝐧𝐝 𝐛𝐚𝐥𝐚𝐧𝐜𝐞 𝐢𝐧 𝐭𝐡𝐞 𝐬𝐩𝐚𝐜𝐞𝐬. 𝐍𝐞𝐰 𝐩𝐢𝐠𝐦𝐞𝐧𝐭𝐬 𝐚𝐥𝐬𝐨 𝐨𝐟𝐟𝐞𝐫 𝐭𝐡𝐞 𝐩𝐨𝐬𝐬𝐢𝐛𝐢𝐥𝐢𝐭𝐲 𝐨𝐟 𝐮𝐬𝐢𝐧𝐠 𝐜𝐨𝐧𝐜𝐫𝐞𝐭𝐞 𝐢𝐧 𝐚 𝐡𝐨𝐬𝐭 𝐨𝐟 𝐜𝐨𝐥𝐨𝐮𝐫𝐬, 𝐭𝐡𝐚𝐭 𝐨𝐟𝐟𝐞𝐫 𝐚 𝐫𝐚𝐰 𝐚𝐧𝐝 𝐭𝐚𝐜𝐭𝐢𝐥𝐞 𝐬𝐮𝐫𝐟𝐚𝐜𝐞 𝐟𝐢𝐧𝐢𝐬𝐡, 𝐦𝐚𝐤𝐢𝐧𝐠 𝐬𝐩𝐚𝐜𝐞𝐬 𝐦𝐨𝐫𝐞 𝐰𝐚𝐫𝐦 𝐚𝐧𝐝 𝐜𝐨𝐦𝐟𝐨𝐫𝐭𝐢𝐧𝐠."- 𝐊𝐞𝐭𝐚 𝐒𝐡𝐚𝐡 & 𝐕𝐚𝐫𝐮𝐧 𝐒𝐡𝐚𝐡, 𝐏𝐫𝐢𝐧𝐜𝐢𝐩𝐚𝐥 𝐀𝐫𝐜𝐡𝐢𝐭𝐞𝐜𝐭𝐬 & 𝐂𝐨 𝐅𝐨𝐮𝐧𝐝𝐞𝐫𝐬, 𝐖𝐨𝐫𝐤𝐬𝐡𝐨𝐩 𝐈𝐧𝐜.
𝐓𝐡𝐞 𝐑𝐞𝐭𝐫𝐞𝐚𝐭, 𝐏𝐡𝐨𝐭𝐨 𝐜𝐫𝐞𝐝𝐢𝐭𝐬: 𝐓𝐞𝐣𝐚𝐬 𝐒𝐡𝐚𝐡 𝐏𝐡𝐨𝐭𝐨𝐠𝐫𝐚𝐩𝐡𝐲
Vivid & Versatile
"𝐂𝐨𝐧𝐜𝐫𝐞𝐭𝐞 𝐢𝐬 𝐜𝐨𝐧𝐬𝐢𝐝𝐞𝐫𝐞𝐝 𝐚 𝐯𝐞𝐫𝐬𝐚𝐭𝐢𝐥𝐞 𝐦𝐚𝐭𝐞𝐫𝐢𝐚𝐥 𝐝𝐮𝐞 𝐭𝐨 𝐢𝐭𝐬 𝐩𝐫𝐨𝐩𝐞𝐫𝐭𝐲 𝐨𝐟 𝐛𝐞𝐢𝐧𝐠 𝐥𝐨𝐰 𝐢𝐧 𝐦𝐚𝐢𝐧𝐭𝐞𝐧𝐚𝐧𝐜𝐞, 𝐝𝐮𝐞 𝐭𝐨 𝐢𝐭𝐬 𝐧𝐞𝐮𝐭𝐫𝐚𝐥 𝐬𝐡𝐚𝐝𝐞 𝐚𝐧𝐝 𝐯𝐢𝐯𝐢𝐝𝐧𝐞𝐬𝐬 𝐢𝐧 𝐢𝐭𝐬 𝐩𝐚𝐭𝐭𝐞𝐫𝐧𝐬 𝐚𝐧𝐝 𝐠𝐫𝐚𝐢𝐧𝐬. 𝐀𝐬 𝐬𝐞𝐞𝐧 𝐟𝐫𝐨𝐦 𝐭𝐡𝐞 𝐩𝐨𝐢𝐧𝐭 𝐨𝐟 𝐯𝐢𝐞𝐰 𝐨𝐟 𝐜𝐨𝐥𝐨𝐮𝐫 𝐬𝐜𝐡𝐞𝐦𝐞, 𝐜𝐨𝐧𝐜𝐫𝐞𝐭𝐞 𝐠𝐨𝐞𝐬 𝐰𝐢𝐭𝐡 𝐚𝐧𝐲𝐭𝐡𝐢𝐧𝐠 𝐰𝐡𝐢𝐜𝐡 𝐢𝐬 𝐛𝐫𝐨𝐮𝐠𝐡𝐭 𝐭𝐨 𝐜𝐨𝐦𝐛𝐢𝐧𝐚𝐭𝐢𝐨𝐧 𝐰𝐢𝐭𝐡 𝐢𝐭. 𝐎𝐮𝐫 𝐩𝐫𝐚𝐜𝐭𝐢𝐜𝐞 𝐢𝐬 𝐦𝐨𝐫𝐞 𝐢𝐧𝐜𝐥𝐢𝐧𝐞𝐝 𝐭𝐨𝐰𝐚𝐫𝐝𝐬 𝐛𝐞𝐢𝐧𝐠 𝐭𝐫𝐮𝐞 𝐭𝐨 𝐭𝐡𝐞 𝐦𝐚𝐭𝐞𝐫𝐢𝐚𝐥 𝐚𝐧𝐝 𝐭𝐨 𝐬𝐡𝐨𝐰𝐜𝐚𝐬𝐞 𝐫𝐨𝐛𝐮𝐬𝐭𝐧𝐞𝐬𝐬 𝐨𝐟 𝐢𝐭. 𝐔𝐬𝐢𝐧𝐠 𝐞𝐱𝐩𝐨𝐬𝐞𝐝 𝐜𝐨𝐧𝐜𝐫𝐞𝐭𝐞 𝐢𝐧 𝐢𝐧𝐭𝐞𝐫𝐢𝐨𝐫𝐬 𝐛𝐫𝐢𝐧𝐠𝐬 𝐨𝐮𝐭 𝐭𝐡𝐞 𝐝𝐚𝐮𝐧𝐭𝐢𝐧𝐠 𝐫𝐞𝐬𝐮𝐥𝐭 𝐢𝐧 𝐭𝐞𝐫𝐦𝐬 𝐨𝐟 𝐯𝐢𝐬𝐢𝐛𝐢𝐥𝐢𝐭𝐲 𝐨𝐟 𝐝𝐞𝐭𝐚𝐢𝐥𝐬 𝐚𝐧𝐝 𝐦𝐚𝐭𝐞𝐫𝐢𝐚𝐥 𝐩𝐚𝐥𝐞𝐭𝐭𝐞."- 𝐂𝐡𝐢𝐧𝐦𝐚𝐲 𝐋𝐚𝐢𝐰𝐚𝐥𝐚, 𝐉𝐢𝐠𝐚𝐫 𝐀𝐬𝐚𝐫𝐚𝐰𝐚𝐥𝐚 𝐚𝐧𝐝 𝐓𝐚𝐫𝐢𝐤𝐚 𝐀𝐬𝐚𝐫𝐚𝐰𝐚𝐥𝐚, 𝐏𝐫𝐢𝐧𝐜𝐢𝐩𝐚𝐥 𝐀𝐫𝐜𝐡𝐢𝐭𝐞𝐜𝐭𝐬, 𝐍𝐞𝐨𝐠𝐞𝐧𝐞𝐬𝐢𝐬+𝐒𝐭𝐮𝐝𝐢𝟎𝟐𝟔𝟏
𝐉𝐮𝐧𝐠𝐚𝐥𝐨𝐰 𝐇𝐨𝐮𝐬𝐞, 𝐏𝐡𝐨𝐭𝐨 𝐜𝐫𝐞𝐝𝐢𝐭𝐬: 𝐈𝐬𝐡𝐢𝐭𝐚 𝐒𝐢𝐭𝐰𝐚𝐥𝐚
The Subtle Effect
"𝐓𝐡𝐞 𝐬𝐮𝐛𝐭𝐥𝐞 𝐮𝐬𝐞 𝐨𝐟 𝐂𝐨𝐧𝐜𝐫𝐞𝐭𝐞 𝐞𝐱𝐩𝐫𝐞𝐬𝐬𝐞𝐬 𝐭𝐡𝐞 𝐓𝐫𝐮𝐭𝐡 𝐛𝐞𝐡𝐢𝐧𝐝 𝐭𝐡𝐞 𝐩𝐫𝐨𝐜𝐞𝐬𝐬 𝐨𝐟 "𝐌𝐚𝐤𝐢𝐧𝐠 𝐨𝐟 𝐚 𝐁𝐮𝐢𝐥𝐝𝐢𝐧𝐠". 𝐈𝐭 𝐚𝐥𝐬𝐨 𝐡𝐞𝐥𝐩𝐬 𝐢𝐧 𝐫𝐞𝐥𝐚𝐭𝐢𝐨𝐧 𝐛𝐞𝐭𝐰𝐞𝐞𝐧 𝐞𝐱𝐭𝐞𝐫𝐢𝐨𝐫 𝐚𝐧𝐝 𝐢𝐧𝐭𝐞𝐫𝐢𝐨𝐫𝐬, 𝐮𝐬𝐞 𝐨𝐟 𝐬𝐢𝐦𝐢𝐥𝐚𝐫 𝐦𝐚𝐭𝐞𝐫𝐢𝐚𝐥𝐬 𝐚𝐧𝐝 𝐭𝐫𝐲𝐢𝐧𝐠 𝐭𝐨 𝐠𝐞𝐭 𝐭𝐡𝐞 𝐨𝐮𝐭𝐬𝐢𝐝𝐞 𝐭𝐨 𝐢𝐧𝐬𝐢𝐝𝐞. 𝐀𝐥𝐬𝐨 𝐚𝐬 𝐚 𝐬𝐭𝐮𝐝𝐢𝐨 𝐩𝐡𝐢𝐥𝐨𝐬𝐨𝐩𝐡𝐲, 𝐰𝐞 𝐚𝐥𝐰𝐚𝐲𝐬 𝐭𝐫𝐲 𝐭𝐨 𝐮𝐬𝐞 𝐭𝐡𝐞 𝐦𝐚𝐭𝐞𝐫𝐢𝐚𝐥𝐬 𝐢𝐧 𝐭𝐡𝐞𝐢𝐫 𝐢𝐧𝐞𝐫𝐭 𝐟𝐨𝐫𝐦 𝐚𝐧𝐝 𝐧𝐚𝐭𝐮𝐫𝐚𝐥 𝐟𝐢𝐧𝐢𝐬𝐡𝐞𝐬. 𝐁𝐨𝐥𝐝 𝐞𝐚𝐫𝐭𝐡𝐲 𝐮𝐧𝐝𝐞𝐫𝐭𝐨𝐧𝐞𝐬 𝐨𝐟 𝐭𝐡𝐞 𝐜𝐞𝐦𝐞𝐧𝐭 𝐭𝐞𝐱𝐭𝐮𝐫𝐞𝐝 𝐰𝐚𝐥𝐥𝐬 𝐩𝐚𝐢𝐫𝐞𝐝 𝐰𝐢𝐭𝐡 𝐨𝐭𝐡𝐞𝐫 𝐧𝐚𝐭𝐮𝐫𝐚𝐥 𝐓𝐞𝐚𝐤 𝐰𝐨𝐨𝐝 𝐟𝐮𝐫𝐧𝐢𝐭𝐮𝐫𝐞 𝐚𝐧𝐝 𝐦𝐞𝐭𝐚𝐥𝐬 𝐬𝐞𝐭 𝐭𝐡𝐞 𝐭𝐨𝐧𝐞 𝐨𝐟 𝐭𝐡𝐞 𝐬𝐩𝐚𝐜𝐞.𝐓𝐡𝐞 𝐡𝐚𝐧𝐝 𝐦𝐨𝐯𝐞𝐦𝐞𝐧𝐭 𝐢𝐦𝐩𝐫𝐢𝐧𝐭𝐬 𝐨𝐧 𝐭𝐡𝐞 𝐜𝐞𝐦𝐞𝐧𝐭 𝐩𝐥𝐚𝐬𝐭𝐞𝐫 𝐜𝐨𝐧𝐬𝐭𝐚𝐧𝐭𝐥𝐲 𝐠𝐢𝐯𝐞 𝐚 𝐬𝐞𝐧𝐬𝐞 𝐨𝐟 𝐭𝐚𝐜𝐭𝐢𝐥𝐢𝐭𝐲 𝐨𝐟 𝐭𝐡𝐞 𝐩𝐫𝐨𝐜𝐞𝐬𝐬 𝐭𝐡𝐚𝐭 𝐡𝐚𝐬 𝐮𝐧𝐝𝐞𝐫𝐠𝐨𝐧𝐞 𝐭𝐨 𝐦𝐚𝐤𝐞 𝐢𝐭𝐬 𝐚𝐫𝐜𝐡𝐢𝐭𝐞𝐜𝐭𝐮𝐫𝐞. 𝐂𝐨𝐥𝐨𝐫𝐬, 𝐡𝐞𝐧𝐜𝐞 𝐚𝐫𝐞 𝐢𝐧𝐬𝐩𝐢𝐫𝐞𝐝 𝐟𝐫𝐨𝐦 𝐧𝐚𝐭𝐮𝐫𝐞, 𝐰𝐢𝐭𝐡 𝐧𝐚𝐭𝐮𝐫𝐚𝐥 𝐟𝐥𝐨𝐨𝐫𝐬, 𝐡𝐚𝐧𝐝 𝐩𝐚𝐢𝐧𝐭𝐞𝐝 𝐰𝐚𝐥𝐥𝐬 𝐢𝐧 𝐠𝐫𝐞𝐲 𝐜𝐨𝐧𝐜𝐫𝐞𝐭𝐞 𝐭𝐡𝐚𝐭 𝐝𝐢𝐬𝐩𝐥𝐚𝐲 𝐭𝐡𝐞 𝐫𝐚𝐰𝐧𝐞𝐬𝐬 𝐨𝐟 𝐭𝐡𝐞 𝐩𝐫𝐨𝐜𝐞𝐬𝐬.."- 𝐊𝐚𝐥𝐩𝐚𝐤 𝐒𝐡𝐚𝐡, 𝐏𝐫𝐢𝐧𝐜𝐢𝐩𝐚𝐥 𝐀𝐫𝐜𝐡𝐢𝐭𝐞𝐜𝐭, 𝐒𝐭𝐮𝐝𝐢𝐨 𝐂𝐨𝐮𝐫𝐬𝐞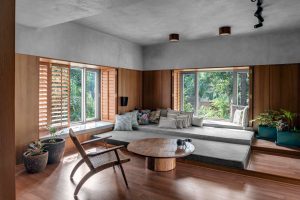 𝐓 𝐇𝐨𝐮𝐬𝐞, 𝐏𝐡𝐨𝐭𝐨 𝐜𝐫𝐞𝐝𝐢𝐭𝐬: 𝐅𝐚𝐛𝐢𝐞𝐧 𝐂𝐡𝐚𝐫𝐮𝐚𝐮
Unusually Unchanged
"𝐖𝐞 𝐰𝐨𝐮𝐥𝐝 𝐧𝐨𝐭 𝐜𝐚𝐥𝐥 𝐜𝐨𝐧𝐜𝐫𝐞𝐭𝐞 𝐦𝐚𝐭𝐞𝐫𝐢𝐚𝐥 𝐢𝐧 𝐈𝐧𝐭𝐞𝐫𝐢𝐨𝐫𝐬 𝐢𝐬 𝐚 𝐫𝐢𝐬𝐢𝐧𝐠 𝐭𝐫𝐞𝐧𝐝. 𝐒𝐨𝐦𝐞 𝐝𝐞𝐬𝐢𝐠𝐧 𝐞𝐥𝐞𝐦𝐞𝐧𝐭𝐬 𝐰𝐞𝐫𝐞 𝐚𝐥𝐰𝐚𝐲𝐬 𝐭𝐡𝐞𝐫𝐞 𝐬𝐢𝐧𝐜𝐞 𝐭𝐡𝐞𝐲 𝐰𝐞𝐫𝐞 𝐝𝐢𝐬𝐜𝐨𝐯𝐞𝐫𝐞𝐝. 𝐂𝐨𝐧𝐜𝐫𝐞𝐭𝐞 𝐚𝐬 𝐰𝐞𝐥𝐥. 𝐈𝐧 𝐠𝐞𝐧𝐞𝐫𝐚𝐥 𝐰𝐞 𝐥𝐢𝐤𝐞 𝐭𝐨 𝐮𝐬𝐞 𝐨𝐫𝐢𝐠𝐢𝐧𝐚𝐥, 𝐫𝐚𝐰, 𝐧𝐚𝐭𝐮𝐫𝐚𝐥 𝐦𝐚𝐭𝐞𝐫𝐢𝐚𝐥𝐬 𝐚𝐧𝐝 𝐮𝐧𝐩𝐨𝐥𝐢𝐬𝐡𝐞𝐝 𝐭𝐞𝐱𝐭𝐮𝐫𝐞𝐬, 𝐈𝐧 𝐑𝐲𝐛𝐚𝐥𝐬𝐤𝐲 𝐰𝐞 𝐝𝐞𝐜𝐢𝐝𝐞𝐝 𝐭𝐨 𝐦𝐚𝐱𝐢𝐦𝐢𝐬𝐞 𝐭𝐡𝐞 𝐜𝐞𝐢𝐥𝐢𝐧𝐠 𝐡𝐞𝐢𝐠𝐡𝐭, 𝐧𝐨 𝐭𝐨 𝐬𝐭𝐞𝐞𝐥 𝐞𝐯𝐞𝐧 𝐚 𝐟𝐞𝐰 𝐜𝐞𝐧𝐭𝐢𝐦𝐞𝐭𝐫𝐞𝐬 𝐟𝐫𝐨𝐦 𝐰𝐡𝐚𝐭 𝐰𝐞 𝐡𝐚𝐯𝐞. 𝐀𝐥𝐥 𝐜𝐨𝐧𝐜𝐫𝐞𝐭𝐞 𝐢𝐬 𝐨𝐫𝐢𝐠𝐢𝐧𝐚𝐥𝐥𝐲 𝐦𝐚𝐝𝐞 𝐛𝐲 𝐚 𝐜𝐨𝐧𝐬𝐭𝐫𝐮𝐜𝐭𝐢𝐨𝐧 𝐬𝐢𝐭𝐞 𝐝𝐞𝐯𝐞𝐥𝐨𝐩𝐞𝐫. 𝐀𝐥𝐥 𝐜𝐨𝐧𝐜𝐫𝐞𝐭𝐞 𝐬𝐮𝐫𝐟𝐚𝐜𝐞𝐬 𝐫𝐞𝐦𝐚𝐢𝐧𝐞𝐝 𝐛𝐚𝐬𝐢𝐜𝐚𝐥𝐥𝐲 𝐮𝐧𝐜𝐡𝐚𝐧𝐠𝐞𝐝 𝐢𝐧 𝐭𝐡𝐞𝐢𝐫 𝐭𝐞𝐱𝐭𝐮𝐫𝐞, 𝐰𝐞 𝐨𝐧𝐥𝐲 𝐯𝐚𝐫𝐧𝐢𝐬𝐡𝐞𝐝 𝐢𝐭 𝐰𝐢𝐭𝐡 𝐦𝐚𝐭𝐭 𝐞𝐟𝐟𝐞𝐜𝐭."- 𝐊𝐚𝐭𝐞𝐫𝐲𝐧𝐚 𝐕𝐚𝐤𝐡𝐫𝐚𝐦𝐞𝐲𝐞𝐯𝐚, 𝐂𝐨 𝐅𝐨𝐮𝐧𝐝𝐞𝐫 & 𝐂𝐄𝐎, 𝐅𝐈𝐋𝐃
𝐑𝐘𝐁𝐀𝐋𝐒𝐊𝐘 𝐀𝐩𝐚𝐫𝐭𝐦𝐞𝐧𝐭
Raw Beauty
"𝐂𝐨𝐧𝐜𝐫𝐞𝐭𝐞 𝐚𝐧𝐝 𝐩𝐨𝐥𝐢𝐬𝐡𝐞𝐝 𝐜𝐨𝐧𝐜𝐫𝐞𝐭𝐞 𝐧𝐚𝐫𝐫𝐚𝐭𝐞𝐬 𝐭𝐡𝐞 𝐫𝐚𝐰 𝐛𝐞𝐚𝐮𝐭𝐲 𝐨𝐟 𝐭𝐡𝐞 𝐬𝐭𝐫𝐮𝐜𝐭𝐮𝐫𝐞 𝐚𝐧𝐝 𝐭𝐡𝐚𝐭 𝐦𝐚𝐤𝐞𝐬 𝐢𝐭 𝐬𝐨 𝐝𝐞𝐬𝐢𝐫𝐚𝐛𝐥𝐞. 𝐒𝐨𝐦𝐞 𝐩𝐫𝐨𝐝𝐮𝐜𝐭𝐬 𝐥𝐢𝐤𝐞 𝐦𝐢𝐜𝐫𝐨𝐭𝐨𝐩𝐩𝐢𝐧𝐠 𝐦𝐚𝐤𝐞 𝐜𝐨𝐧𝐜𝐫𝐞𝐭𝐞 𝐚𝐩𝐩𝐥𝐢𝐜𝐚𝐛𝐥𝐞 𝐨𝐧 𝐬𝐮𝐫𝐟𝐚𝐜𝐞𝐬 𝐮𝐧𝐢𝐦𝐚𝐠𝐢𝐧𝐞𝐝 𝐚𝐧𝐝 𝐭𝐡𝐚𝐭 𝐦𝐚𝐤𝐞𝐬 𝐜𝐨𝐧𝐜𝐫𝐞𝐭𝐞 𝐭𝐫𝐮𝐥𝐲 𝐯𝐞𝐫𝐬𝐚𝐭𝐢𝐥𝐞. 𝐀𝐧𝐝 𝐭𝐡𝐢𝐬 𝐢𝐬 𝐧𝐨𝐭 𝐣𝐮𝐬𝐭 𝐥𝐢𝐦𝐢𝐭𝐞𝐝 𝐭𝐨 𝐟𝐥𝐨𝐨𝐫𝐬, 𝐰𝐚𝐥𝐥𝐬 𝐚𝐧𝐝 𝐜𝐞𝐢𝐥𝐢𝐧𝐠𝐬 𝐚𝐧𝐲𝐦𝐨𝐫𝐞, 𝐭𝐡𝐞𝐫𝐞 𝐚𝐫𝐞 𝐬𝐨𝐦𝐞 𝐟𝐚𝐛𝐮𝐥𝐨𝐮𝐬 𝐝𝐞𝐬𝐢𝐠𝐧𝐞𝐫𝐬 𝐰𝐡𝐨 𝐚𝐫𝐞 𝐞𝐯𝐞𝐧 𝐦𝐚𝐤𝐢𝐧𝐠 𝐥𝐢𝐟𝐞𝐬𝐭𝐲𝐥𝐞 𝐩𝐫𝐨𝐝𝐮𝐜𝐭𝐬 𝐚𝐧𝐝 𝐢𝐧𝐭𝐞𝐫𝐢𝐨𝐫𝐬 𝐚𝐜𝐜𝐞𝐬𝐬𝐨𝐫𝐢𝐞𝐬 𝐢𝐧𝐜𝐥𝐮𝐝𝐢𝐧𝐠 𝐥𝐢𝐠𝐡𝐭𝐬 𝐨𝐮𝐭 𝐨𝐟 𝐜𝐨𝐧𝐜𝐫𝐞𝐭𝐞. 𝐓𝐡𝐞 𝐛𝐚𝐬𝐢𝐜 𝐜𝐡𝐚𝐫𝐚𝐜𝐭𝐞𝐫𝐢𝐬𝐭𝐢𝐜𝐬 𝐨𝐟 𝐭𝐡𝐢𝐬 𝐦𝐨𝐥𝐝𝐚𝐛𝐥𝐞 𝐦𝐚𝐭𝐞𝐫𝐢𝐚𝐥 𝐢𝐬 𝐢𝐭𝐬 𝐛𝐢𝐠𝐠𝐞𝐬𝐭 𝐚𝐬𝐬𝐞𝐭, 𝐚𝐧𝐝 𝐢𝐭 𝐜𝐨𝐧𝐬𝐭𝐚𝐧𝐭𝐥𝐲 𝐜𝐡𝐚𝐥𝐥𝐞𝐧𝐠𝐞𝐬 𝐚 𝐝𝐞𝐬𝐢𝐠𝐧𝐞𝐫 𝐭𝐨 𝐢𝐧𝐧𝐨𝐯𝐚𝐭𝐞 𝐚𝐧𝐝 𝐦𝐚𝐤𝐞 𝐲𝐞𝐭 𝐚𝐧𝐨𝐭𝐡𝐞𝐫 𝐦𝐚𝐬𝐭𝐞𝐫𝐩𝐢𝐞𝐜𝐞 𝐨𝐮𝐭 𝐨𝐟 𝐭𝐡𝐞 𝐬𝐚𝐦𝐞 𝐦𝐚𝐭𝐞𝐫𝐢𝐚𝐥."- 𝐀𝐧𝐮 𝐂𝐡𝐚𝐮𝐡𝐚𝐧 & 𝐏𝐫𝐚𝐬𝐡𝐚𝐧𝐭 𝐂𝐡𝐚𝐮𝐡𝐚𝐧, 𝐅𝐨𝐮𝐧𝐝𝐞𝐫𝐬, 𝐙𝐄𝐑𝐎𝟗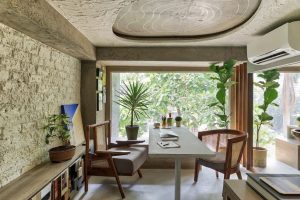 𝐓𝐰𝐨 𝐏𝐚𝐫𝐚𝐥𝐥𝐞𝐥 𝐖𝐚𝐥𝐥𝐬, 𝐏𝐡𝐨𝐭𝐨 𝐂𝐫𝐞𝐝𝐢𝐭𝐬: 𝐏𝐮𝐥𝐤𝐢𝐭 𝐒𝐞𝐡𝐠𝐚𝐥