Sapovilla 116, a villa with a Sapodilla tree, turns into an inter-generational paradise
Impressions: Benoy Sebastian
Photography: Nivedita Gupta
Located in Raj Nagar, Uttar Pradesh, and set on a 1,600 square yards site amidst Sapodilla and Ashoka trees for company, the villa is built to maximize the outside view from the interiors by designer Ar. S. K Goel, Principal Architect, Conarch Architects India.
The owners envisioned a home for both entertaining friends and relaxing as a family. The spirit of efficiency extends to the limited material palette – brick, concrete, stone – paired with energy efficient glass and readily accessible light filled spaces. The design encourages natural ventilation and passive solar shading, while the roof and terraces collect rainwater that is used to replenish the groundwater. The villa's exterior is intentionally subdued in colour and texture, allowing the lush natural surroundings to take precedence.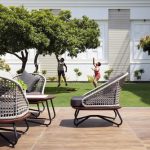 The ground level has the entrance lobby, a drawing-room, family lobby, a kitchen with a dining room and two other bedrooms. The first level has the children's rooms, the master suite, a laid back living room to sit and relax during the day, and a library.
While the exterior articulations reflects the client's fondness for post-colonial architecture, the interiors are designed for contemporary urban living. The interior color palette brings a happy and relaxed vibrancy to the living spaces. A floating staircase leading to the second floor serves as a sculptural focal point and connects the two levels visually and functionally. Filled with eccentric decor pieces, choice artwork, and custom furniture, this house is a culmination of urban sophistication and indoor-outdoor living.