Christmas is the perfect opportunity to get together with family and celebrate one of our most cherished festivals. This year, take command of your walls and make Christmas the most wonderful time of the year since you have the perfect excuse to decorate. You don't have to riddle your walls with nail holes. Here are some quick, damage-free and pocket-friendly solutions that can bring some extra cheer to your home, indoor and out. These simple hacks come handy for decorating your home for last-minute parties as well!
Stockings
Stockings on a mantel are a holiday classic. With clear mini hooks, you can maintain a timeless look throughout the season. At it, all comes down damage-free with one pull when the holidays are over.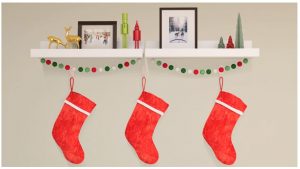 Ornamental Christmas Tree
If you don't have enough room for a tree or simply want to avoid cutting one down, use Mini Clear Hooks and Clear Decorating Clips which can help you make one on your wall. Simply arrange the hooks in a triangle, much like an evergreen tree, and hang your favourite classic Christmas ornaments. Add a string of lights for bonus points.
Mess-free home
Inviting guests over for Christmas and New Year celebrations brings with it a lot of guests coming home and families getting together. Hence, the kitchen is the most active at this time. To avoid the mess, an organized kitchen is the best way to go about it. The clear wire hooks and designer hooks help you stay organized and help you store your utilities in the most efficient manner.

(Inputs by Mr. Sanjit Satapathy, Executive Director, Consumer Business, 3M India)