Within the residential realm of Palm Avenue, Vasant Kunj stands a beauty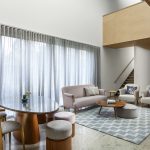 Standing disparate with its clean lines and minimalistic exteriors, the house designed by architect Akshat Bhatt of Architecture Discpline is symbolic of the evolution that its owners and creators underwent during its three-year completion/construction period.
The strength of the house are its natural light, clean air, an open floor plan and luxurious interiors, synonymous to the disposition of the owners. Wrapped in meticulous timber grids, the exteriors are carefully planned to reflect the gradual ageing process one sees in nature. The house features two distinct spaces – private and public, which deem fit when overlapped.
The formal dining room houses a large table that can accommodate up to 40 people, with a striking minibar and parquet flooring in three colours, making it optimal for entertainment, while being quintessentially minimal. Each bedroom has been carefully planned and executed to suit each family member's requirements while following the same overarching theme of simplicity.
While the kids' room has a colourful floor with textiles in geometric patterns and bright colours, the adult rooms are more spacious and classier, with oversized beds on giant platforms, resembling a traditional Indian palang.  The house is programmed in a way to allow for flexible partitions and systems, which can be moulded to increase or decrease space as needed in the future. Keeping light at the crux, the studio has focused on the various aspects surrounding it, including diffusion, patterns and shadows.
The designers worked consistently towards reducing wasteful energy consumption at every level, be it material, or intellectual so as to never overstate something that seems incomplete or complex, resulting in an environmentally conscious space.