Conceptualised as "a pebble in the grass," the Pool House designed by Delhi-based architectural firm 42mm expresses a shift in time between two buildings set parallel to each other by the virtue of its design yet congruent to its context by commonality in the material palette
So it all started with a brief for an entertainment zone consolidating a home theatre, lounge, pool, changing room, a gym, and two suites with dressers and toilets; attached to the owners' existing 20 year old house. But, the architects wanted them to re-visit their brief and to give the annexe a reviving look. "We emphatically felt that the new addendum ought to be a standalone structure complimenting the current building and not replicating its architectural style," says Rudraksh Charan of 42mm.
The property boasts of an amazing, lavish green vegetation with tall trees and the architect felt the house ought to value that scene every step of the way and therefore the interior design had to be in sync with the architecture. The stand alone curved structure with the glass on either side houses the living room and home theatre placed adjacent to one another. The form is developed out of a concrete shell that gave the pool house a bold sculptural identity with a minimalist approach, looking like a peal from the landscape. With the use of glass on both sides makes the pool house all transparent, so the architects oriented it in a way that it sits along the pool and overlooks the 2.5 acres of greens on the other side.
The gym was placed in a way that it encases the pool with buildings on all sides thus creating a sense of privacy. A boxy wooden volume divides the structure in two, creating space for a toilet and a pantry. Some timber was also added in the two main rooms – framing a cinema screen in the lounge space, and wrapping around a seating area in the bar area. The colour palette of the interiors is concrete grey, American oak wood and white.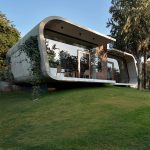 Exhibiting a non-conformist style, the Pool House is devoid of any unnecessary ornamentation. Each element is independently picked to suit the ethos of the space, so that nothing feels out of place or monotonous. "In fact the materials used in designing are left true to its nature, e.g. the concrete, wood, metal, leather are used in its unrefined state rather than a highly polished or finished surface," concluded Rudraksh.
The entire building is an example of minimalism, every unwanted thing is either concealed, embedded or invisible; which required extreme detailing in the initial level. Designing shuttering to hold an inclined RCC wall weighing 8.5 tons, the architects made a proper unit like a 3D frame to hold the weight of concrete. Designing wooden frames in a curved section with wooden doors surrounded by glass on all sides, this was an experiment where the team developed a freestanding wooden door frame. The toilet is finished in singular in-situ terrazzo, which required masons from eastern Uttar Pradesh who work on doubly curved terrazzo surfaces