Trend 1-Luxe Headboards
Add a touch of sophistication to your otherwise subdued bedroom with jewel-toned velvet headboards.
Trend 2- Geometric Patterns
Move away from tight tribal repeats, 2019 is the year for loose, fun and asymmetrical patterns.
Trend 3- Natural Materials
Natural stones and terrazzo are used in unexpected categories to blend luxury with practicality.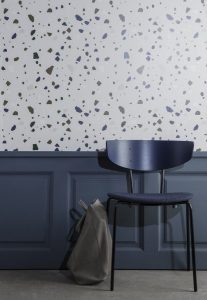 Image-thefourwallblog.com
Trend 4- Curvy Furniture
The 70's inspired rounded furniture makes a comeback!
Trend 5-Art Deco
The Art Deco influence is expected to become more prominent in the coming year, inspiring both textile design and furniture silhouettes.