This quaint little cosy home is an extension of the lives of its proud owners Vineet and Deepa, and is a part of their journey called life. The house has a collection of interesting windows and shutters, doors, staircases and wooden rafters, which the couple brought from their travel sojourns. Dwelling into the past, Vineet says, "The only thing missing was a plot of land to build our home on.
A couple of years ago, we chanced upon a perfect piece of land and decided to build a home. We were sure we wanted a sanctuary different from the urban circus". Deepa further adds, "The walls are constructed from the mud dug out for our foundation. The roof is made of reclaimed wood and Mangalore tiles. We recycle water and have LED light fixtures installed throughout the house.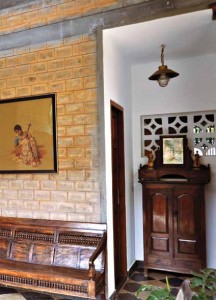 Apart from this, we made sure the indoors and the outdoors merge seamlessly and we kept the number of rooms to a minimum. Every usuable space opens out to a garden/outdoor space". As a result of this, during the scorching summer there is ample air circulation, and that combined with the high ceilings works well to keep the home cool.
The Home
The living room is not a conventional living room. The house has an open layout with ample seating options. The area with maximum seating is done up with comfortable easy rosewood. The fact that\ the house is an upcycled one itself makes it very interesting. The walls are made of mud blocks that were made on site; the doors and the windows are generations old bought when an old English cottage in the depths of South India was being demolished; the banister of the wooden staircase belonged to Vineet's ancestral home; the roofing rafters were bought as reclaimed wood and the granite paving used is waste from granite cutting yards. The couple always wanted an open styled house where the indoors and the outdoors would merge in total harmony. The living and the dining rooms open up to the courtyard and the pool; and the bedrooms into the gardens.

The Decor
The decor is vintage as the house has rosewood chaise lounges, an 8-seater teakwood dining table; a caned rosewood collapsible garden set and century lamps. The furnishings are muted with cushions and rugs in geometric shapes adding a modern touch. A large vintage chandelier and hanging lights create the perfect ambience, while the Edison bulbs give the house a romantic and soft mood.