Wrapped in the invigorating view of the Aravalli ranges, the Kapoor's home in Gurugram will heighten your sense of anticipation. Saba Kapoor takes us inside her home that is created using a palette that complements the mesmerizing view of the outside. Let's step inside this dreamy abode.
Our house in the Aravalli range is a project that is close to our hearts. It has been designed in keeping with our design ethos of sustainability hence both the material and the colour palette appear raw yet refined. We have used natural wood and earthy materials throughout the house— from floor to furniture and fleshed them out with intricate care and details.
While the overall theme of the house is contemporary, we have further enhanced it through the contrasting interplay of minimalism and maximalism. This aesthetic dichotomy is achieved by using a minimal neutral palette and dramatic styling using oversized mirrors, sculptures, and art. The diverse inventory of antiques, art, and artefacts we have collected over the years from our travels across India and abroad show up everywhere in the house.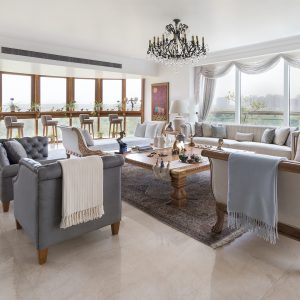 Packed with custom touches and artisanal craftsmanship, our house boasts of four defined spaces: double-height foyer, double-height terrace, living room, and bar. While each of these areas has its own soul and spirit — we have used sliding doors to demarcate as well as to unify them.
The vertical volume of the terrace incorporates wooden panelling that seduces the eye to roam all the way to the top. Wood and brass accents create a contemporary yet earthy vibe in the bar/family lounge. The living area is completely steeped in the minimalism-meets-maximalism style with the wooden bay window area, brass-accentuated double door, and larger-than-life vignettes; this is indeed a meeting point for rich material interactions.
Overall, our home is a pleasing medley of dramatic accents, vintage elements, artisanal pieces, theatrics lighting, making it all seem like they have come together organically- over the years. It is an apt representation of our family, our values, and our love for honest materials and artisanal craftsmanship