Bhuwan Silhare is a landscape and figurative self taught artist. That art dwells in every part of his body of work is evident in his Varanasi series of paintings.
Impression: BENOY SEBASTIAN
Self taught artist Bhuwan Silhare, is an inspiration to innumerable budding artists, who have no formal training in art. He started painting at the age of 9 but the humdrum of daily life stood in the way pursuing his passion.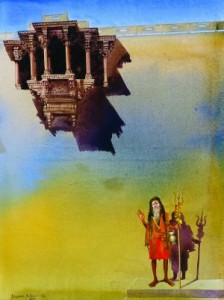 He once again took up the brush and started painting Varanasi ghats and overwhelming response from the people prompted him to hold a show in Jehangir Art Gallery.