Tahiliani Homes, from the design house of Tarun Tahiliani, have built dream vacation homes in the vacation capital of India – Goa.
Nestled in the quiet serene village of Socorro in North Goa, surrounded by evergreen bamboos, amidst the sprawling lush green hills and valleys, is a dream vacation home built by Tahiliani Homes- a boutique interior and architectural firm from the design house of Tarun Tahiliani. Salvador Villa Cassia, is a stunning fusion of contemporary and local architecture. It is a perfect getaway for those seeking proximity to nature.
Spread over 5,000 square feet, the beautiful villa includes four bedrooms with en-suite bathrooms, the day lounge, living and family rooms. It is built in the likeness of Geoffrey Bawa's famous architecture style "tropical modernism." The villa is designed by incorporating true Indian craftsmanship with the use of contemporary technology.
The design sensibility has been to create an outstanding amalgamation of indoor-outdoor living. Which is visible as soon as you enter through the entrance door which opens on to a large lobby leading to the central courtyard where you see a luminous waterbody replete with plants, accentuated by high glazing ceilings, ample space and textured walls. One of the key highlights is the use of wrought iron railings, which lends extravagance through layering and details.
The design house which has been working in Goa for over a decade, consider it a sanctuary for city dwellers who want a break from the routine to get back into nature and re-connect with themselves. Keeping this in mind, the architectural style of the villa is governed by the popular vernacular style of the region – a combination of Indian and Portuguese architecture.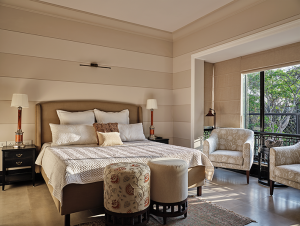 The designs of the villa boast the use of an interesting mixture of tiles, Indian stones and patterned floors to capture the true indigenous architecture of Goa. This theme is carried even into the exterior architecture of the villa, where the walls have an earthy finish along with Mangalore tiles roof that beautifully create a harmonious balance of design throughout.
Image: Sushant Sinha