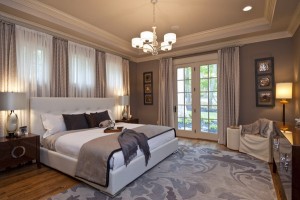 Image Courtsey: www.nkuaf.com
At the end of a long hard day at work there is nothing better than lying down on your cozy bed with a freshly laid sheet. A time when we think of a good night's sleep. But how many of us in reality give a thought to the interior style of our bedroom? You may have ideas galore in your mind to design your bedroom. But what's the point of culminating all the designs together when the 'soul' itself is missing. The more the interiors are stylised and personalised – the more beautiful your bedroom will appear. It will look more warm and welcoming.
It's time to invest some time to make the room look more real and also make it more comfortable. Because its the room where you're going to relax, rejuvenate and ofcourse spend more time.Therefore decorate your bedroom with love and special care.
Image Courtsey: www.rasqa.co
Making your relaxing haven cozy doesn't sounds like a challenge, especially if you believe there is not too much art to be mastered, except of the bed. The truth, however, is that designing the 'near perfect' bedroom is a time consuming activity, and if not done with proper planning may end up being more messed up than imagined. There is a process, a step-by-step basics to redo your bedroom.
Hopefully some simple one liner tips will brighten your day:
Decide an ideal position for your bed. Place it close to the window; but not so close that nature plays traunt

Choose wall colour as per your liking, don't go by what others suggest

Take the help of professionals to get the wall painted. Don't indulge in self experimenting

Let there be light – appropriate lighting will add charm to your room

Make use of stuffs that you already have at home

Clean your room regularly. Keep it spic and span

 Finally, let the room reflect the 'you' factor all the way