Shifting to a healthy lifestyle can be challenging, not just because you have to watch what you eat, but also because most of the healthy alternatives lack the tastefulness that their not-so-healthy counterparts have! Well… Fret not. Try these two super easy and tasty salads to satisfy your taste buds!

(Recipes by Sheenu Duggal, Blogger & Homemaker)

Som Tam (Thai green papaya salad)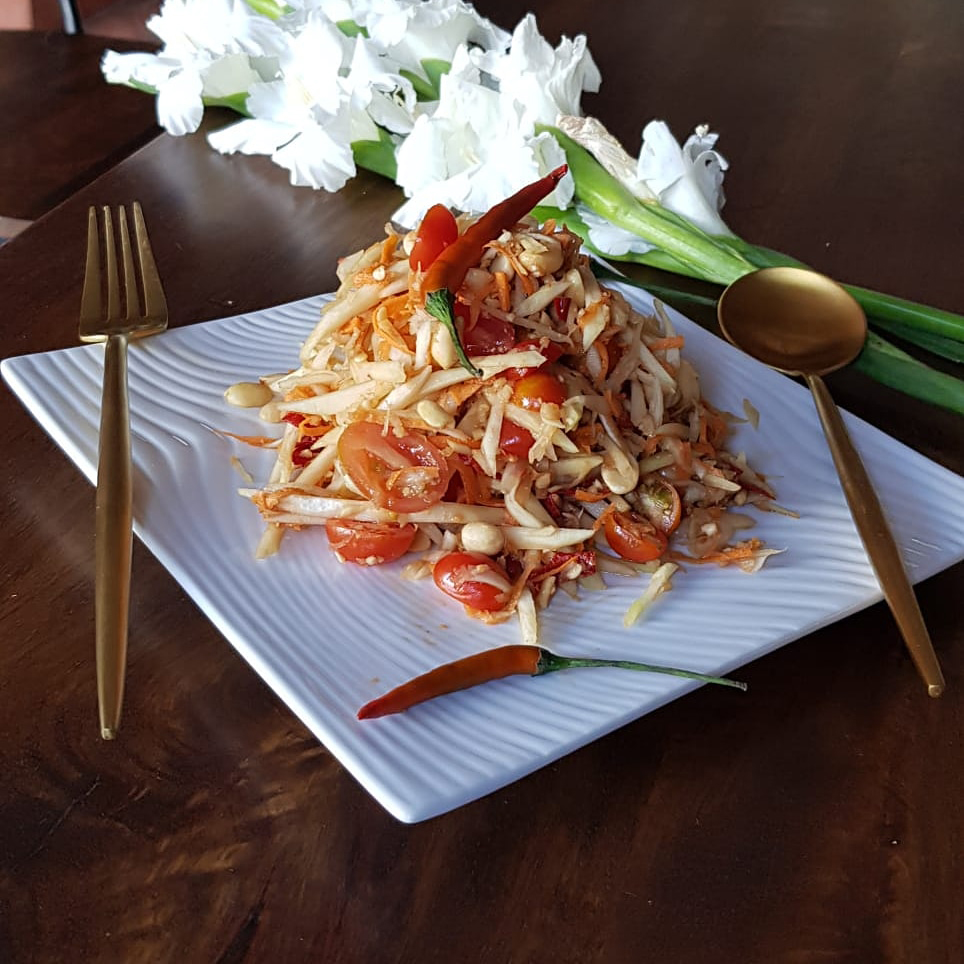 Summers mean salads and this popular Thai inspired raw papaya salad is a great one to serve in the afternoon or evening. This bright and spicy Thai papaya salad packs a flavorful punch, easy to make and is delicious. Green or raw papaya is an amazing source of vitamins C, B, folate, potassium and fiber. It's an excellent low calorie, high nutrition ingredient to include in your diet. This salad is refreshingly spicy, sweet, sour, salty flavour with an added crunch of peanuts.
Ingredients
1.5 cups raw Papaya, shredded
2-3 birds eye chillies, chopped
1.5 cups raw Papaya, shredded
2-3 birds eye chillies, chopped
4-5 garlic cloves
8-10 cherry tomatoes, halved
1 carrot, shredded
1/4 cup roasted Peanuts
2 tbsp freshly squeezed lemon juice
1 tbsp tamarind paste
1 tbsp brown sugar
1 tbsp soy sauce
Salt to taste
Method:
Wash and peel papaya. 
Take 1 half and remove seeds and grate it.
Wash and grate the carrot.
Take 2-3 tbsp shredded papaya, 2-3 cherry tomatoes, chillies, garlic, brown sugar, lemon juice, soy sauce, tamarind paste and some peanuts and roughly pound in a mortar and pestle and keep aside.
In a bowl, add papaya, carrots, cherry tomatoes and peanuts.
Add salt and mix well.
Add dressing and mix the dressing into the salad.
Before serving, add roasted peanuts on the top and serve chilled.
Black-Eyed Bean Salad
Black-eyed bean also known as lobia in Hindi is packed with health benefits. These beans are rich in antioxidants. It contains necessary flavinoids and is low in calorie, gluten-free and has no cholesterol. It helps in weight loss and is good for the heart and the digestive system. It is high in protein, fiber, vitamins and minerals. 
Ingredients:
1 cup black-eyed beans/lobia, boiled 
1 cup cucumber, chopped
1 small onion, thinly sliced 
1/2 cup cherry tomatoes, halved
1/4 cup pomegranate pearls
1/2 cup lettuce leaves, roughly chopped
For the dressing:

null
1 tbsp freshly squeezed lemon juice
1 tbsp extra virgin olive oil
1/2 tsp mustard paste
Salt and pepper to taste
Method:
null
In a small jar, combine all the dressing ingredients.
Tightly close the lid and shake it well and keep aside.
In a big salad bowl, combine beans, lettuce leaves, cucumber, onions, cherry tomatoes and toss them well.
Pour the dressing over the tossed salad and top it with pomegranate pearls and serve chilled.