Vibhor Sogani
Art for you is?
An instinctive and impulsive expression of a thought articulated in the language and medium, which, I connect with. For me, it is a visual delight.
What prompted you to work with steel?
I connect with it as my personal medium. The range of textures, finishes and reflections which the material can offer got me attracted towards the material.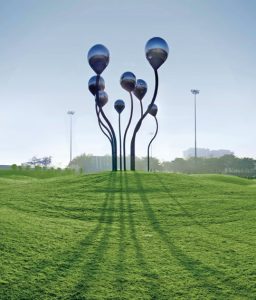 What does your creative process involve?
My creative process involves day dreaming and rudimentary sketching. I draw inspiration from anything around me.
How has your encounter with the material been so far?
It has been like an affair. It has been passionate and exciting for most part, and challenging and frustrating at times.

What kind of challenges does steel as a medium pose?
Handling of this material is very different from brass or copper, which are softer and easy to handle and handcrafted. Stainless steel requires machine and technical intervention. It is typically a material suited for mass production since it
requires dyes and moulds. Therefore, creating an artwork, which is a one off or at best a limited edition, poses a challenge.

Any inspiring words for young artists ?
It is a very exciting material to work with, provided you understand the material and its properties. Be innovative and dream big.