The stunning and awe-inspiring Goa weekend home of Abha Narain Lambah
Having spent a career restoring heritage properties, conservation architect Abha Narain Lambah chose for her own vacation home a hundred year old Portuguese villa nestled in Anjuna village, close to the beach. The villa was abandoned for more than 30 years and was lying decrepit, along with a small cottage.
Abha lovingly restored both these, taking care to restore the traditional balcaos. Abha mentions that the entire palette of materials consists of rough shahbad flooring with aqua tile inserts, white epoxy floors in the bedrooms and white lime washed walls and furniture, giving a breezy tropical feel. Old antique furniture sourced from flea markets and Mumbai's Chor Bazaar is used across the three buildings that are set within a large garden with coconut and frangipani trees.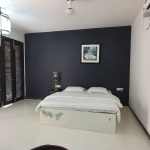 In the backyard Abha created a new annex on the old footprint. The entire annex overlooks a pool and the glass doors slide open to create a cabana like feel to connect the indoors to the outdoors. Additionally, quirky light fittings ranging from milk bottle chandeliers to clusters of tungsten lamps make for a youthful interior. The interiors overall maintain a strong contemporary sensibility, while paying homage to the traditional spaces.