It is your living room that should spread the charm and always look inviting and invigorating. Take it as a challenge to deck up your living space. All you have todo is spend a little more time in the planning stages.
It's always good to employ a light colour scheme. The idea should be simple – natural as well as artificial light should reflect off the surface rather than just get absorbed. This will give an illusion of a bigger living room. Cozy materials such as wool, linen will do wonders.
Don't clutter your living area. It will not only send a bad vibe, but will also repel those who seek to be a part of your abode. Neatly arrange things in an order – for instance, stack books in a well organised rack. In this way the living space will automatically look spacious and open.
Image credit: www.hgtv.com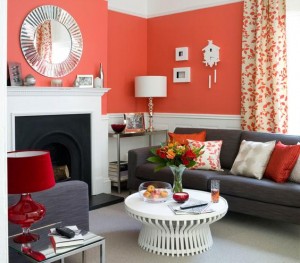 Image credit: www.realsimple.com
And also your more expensive furniture will remain stand out as the center of attention. Mirrors add to the magic. The old world charmer since time immemorial is always a reliable resource. Frame a mirror with an ornate and intricate border – this will enhance the look of your living space. It might look strange at first – but don't panic, after all there will always be something on view in the reflection of the mirror.