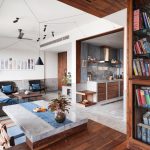 Malay Doshi's studio apartment in Ahmedabad is a gem of a beauty
On entering the petit two bedroom studio apartment of Malay Doshi, the entire house instantly becomes visible – the only door in the house is to the toilet, that too of fluted glass, which ensures ample daylight in the north facing apartment.
.
The living space flows into the dining area, which further connects to a reading and entertainment den. As a result of the floor seating dining table and an open kitchen, the house intentionally appear larger.
.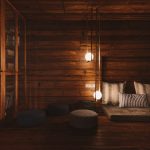 The interior takes white and grey undertones, both of which create an overarching harmony, which is then accented with highlights of wood and brass. On entering the house you'll experience four different spaces demarcated by changes in material.
.
The kitchen and the toilet utilise only grey tones, hence creating 'niche like' spaces inside the lighter white and grey general areas. The den is made of wood to give a cozy vibe, and the volume of this space is reduced drastically to give a sense of entering a different realm.
.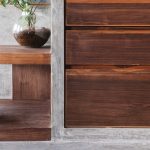 This is further exaggerated by the need to climb a couple of steps to enter it. Finally, the last space, which is the sleeping area, is made much warmer with beige walls and a more playful floor in tones of blue. This gives it a very different aesthetic inside the house, due to the personal touch.
.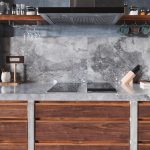 The project is an exploration of materiality and juxtaposition of textures. The entire flooring is polished concrete with different inlays, like wood, stone, cement tiles, and brass. All the walls have a pigmented lime plaster finish, which not only keeps the house cool in the hot weather of Ahmedabad, but also gives a timelessness to the space.
.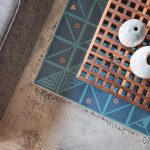 The wood used is reclaimed 60-80 years old Valsad teak from the 'pols' of Ahmedabad – not only are they more sustainable, but the aged wood also has an inherent rich texture. Leading away from the generic chic finished urban homes, a conscious choice was made to keep the end product unfinished; to make the house an oasis in the middle of the city, similar to the natural ever changing sense of space of a vernacular cottage.