Obeetee, name synonymous with luxurious rugs and carpets has recently unveiled another breathtaking collection the Nizam Collection.
An exclusive blend of New Zealand wools creates unusual luster while the rich jewel tones compliment the royal patterns of Meshed, Isphahan, Kashan and Kermanshah.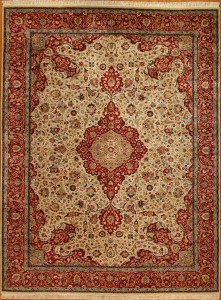 The antique rugs feature a primary "broken border" in a technique originating in central Persia. Oversized palmettes, in classic Shah Abbasi style, grace the vinery filled field with undeniable refinement available in attractive all over design with distinctive green and gold palate.
The rugs attractiveness lies in its simplicity. Ethereal in essence, the true charm of these classically inspired carpet lie in its inspired color palette.  A dreamy combination of sky blue, maize and the palest of pear create a calming environment for any interior. Every piece is a perfect harmony of color, weave and heritage. Crafted in subtle colors of cinnamon, saffron gold and sea greens it is nothing short of yarn rhapsody.
One of Obeetee's oldest collections, Nizam proves its success year after year. Gracing noteworthy homes, five-star hotels, embassies and presidential palaces, Nizam carries a provenance usually reserved for only the finest antiques.