Meraas, a names that stands as luxury brand for kashmiri carpets and walnut wood furniture is here again with its latest collection to woo us.
Meraas has launched "Kashmiri Naqashi Collection", having the finest naqashi in the world. This furniture is especially designed to promote the forgotten art of Kashmir.
Meraas, resembles the spirit of Kashmir with the unique and handmade range of Floor Carpets, Wall Carpets, Chain Stitch Rugs, Kashmiri Embroidered Soft Furnishing, Pashminas, Walnut Wood Furniture and Papier Mache Products.

According to Mr. Abdul Quayoom Trumboo-CMD-Meraas,
"Kashmir is a home to some of the best walnut wood carving done anywhere in the world and the only place in India where walnut tree grows. What makes walnut wood so unique is, its colour, grain and sheen. We have great Naqash (craftsmen), who creates artistic magic on the wood and product wooden furniture, chess boards, wall panels, room partition, jewellery boxes and utility boxes. Such handicraft of exquisitely made wooden artifacts is representative of Kashmiri tradition and goes back to third or fourth century in the architectural remains found in Kashmir."
The motifs on "Kashmiri Naqashi Collection" are inspired from the vivid natural wonders of Kashmir, Chinar leaves, Vine leaves, Lotus, Rose. A single piece can take from 2 days to 6 months depending on the intricacy of the pattern and furniture type.
The Kashmiri Naqashi Collection is a delight having a complex, tedious and time taking process of wood carving. Entire collection is handmade as no machinery is used. While designing some magnificent creation the carpenter uses only traditional tools such as chisels, saw, measuring tape, wooden scale.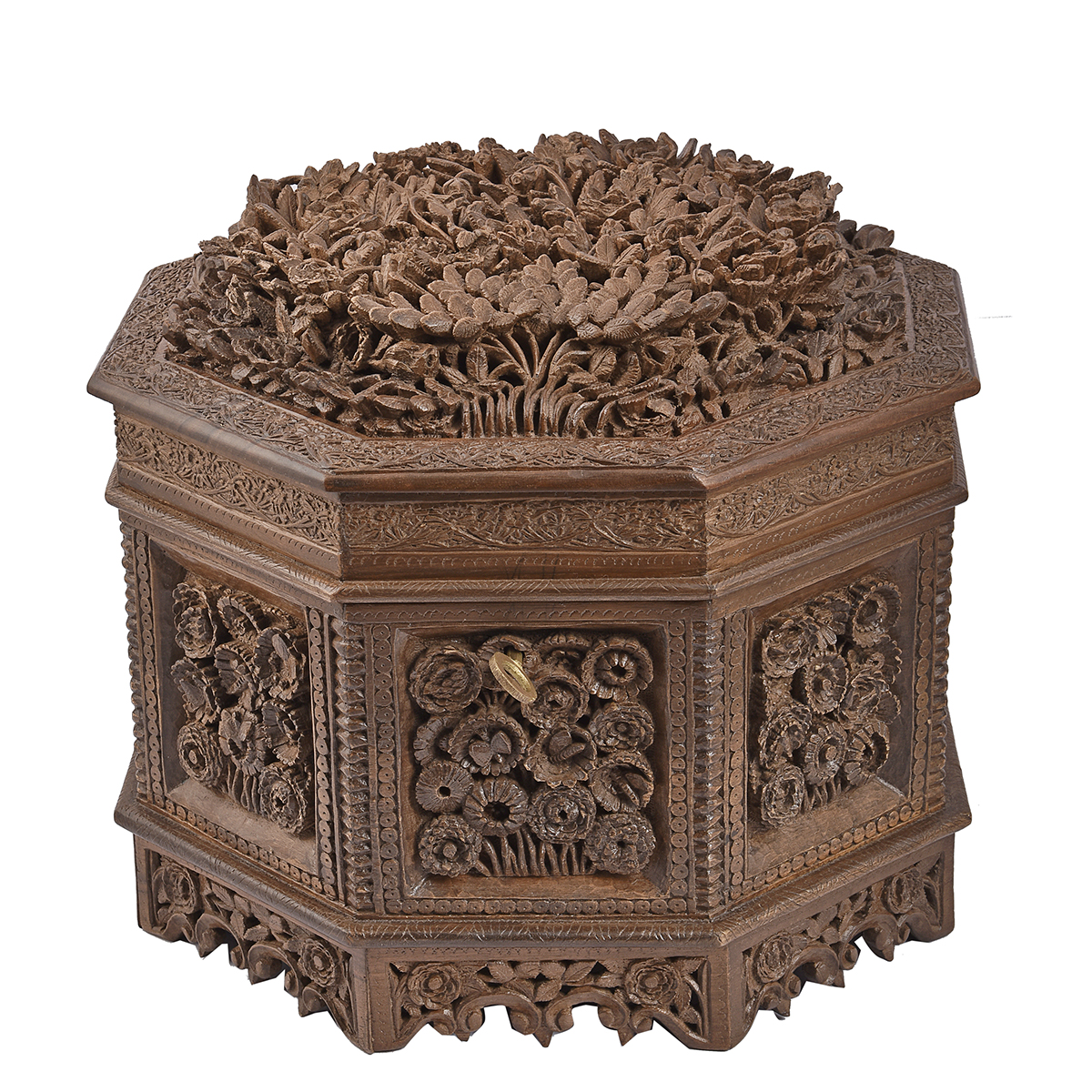 The wooden object which further goes to the carver or Naqash, is then carved into the motifs on the wood by various steps –
Laakhun (inscribing the pattern on wood)
Dagun (marking or punching i.e. digging out the wood on marked lines with the help of a chisel or mallet)
Zameen kadun (refers to deeper digging to obtain the 3D effect of the motif)
Guzar dun (giving the shape to the motifs or broader outlining of the designs)
Sumbh kadun (texturing of the wooden object with the help of a nail like tool with teeth like structure sumbh).
Finally, the artistic piece is polished where wood is softened using sand paper, rubbing with a semi-precious stone called as pullet.