Bringing in the season of celebration and cheer, L'Opéra's Christmas inspired menu will make you reminisce with your childhood days. The newly launched selection of biscuits, bûche and chocolate figurines are not only enticing to look at but delightful to taste.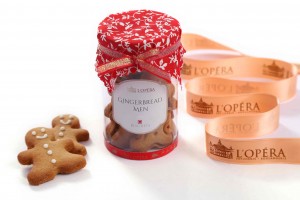 Christmas being one of the most important holidays of the year, the new range by L'Opéra
includes colourful and warm delights for the little ones. The range includes classic Ginger Bread
and Short Bread biscuits with a variety of inviting and festive colours as well as Belgian
chocolates in the shape of Monsieur Santa Claus!
On popular demand and for the first time, L'Opéra introduces two season favourites, the Black
Forest Bûche and the Red Velvet Bûche. The Bûche are crafted with a quintessential French
touch and the Yule logs masterfully combine Christmas flavours from different parts of Europe.
The new Berrila Bûche, made with vanilla, Mascarpone and wild berries is an explosion of fruity
taste and delicate Italian cheese, with a balanced, colourful, and sumptuous presentation.
Save
Save