Impressions: Delilah Rodrigues
An amalgamation of global cuisines with a twist of regional flavours, multi-cuisine restaurant Global Junction, Mumbai offers iconic dishes in a renewed glocal avatar
Tuna Salad with Hajmola Dressing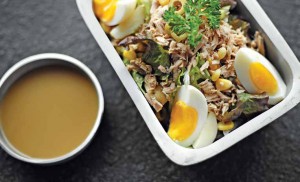 You need
60 l canned tuna
20 gms lettuce iceberg
20 gms roman lettuce
22 gms loll rosso lettuce
19 gms potato (small)
1 egg
10 gms cherry tomatoes
8 gms red capsicum
8 gms yellow capsicum
20 gms french beans
10 gms american corn
10 pitted green olives
30 l sunflower oil
50 gms hajmola dressing
For hajmola dressing:
60 ml salad oil
10 gms dijon mustard
sauce
10 gms honey
4 gms amchoor powder
4 gms chaat masala
5 gms black salt
3 gms cumin seeds
30 ml sunflower oil
Method
• Cut all the vegetables and keep aside.
• In a mixing bowl, shred the tuna with a fork.
• Then, add hajmola dressing and chopped veggies to the bowl, and toss lightly.
• Keep some tuna, olive and corn aside for garnish.
• Once ready, serve in a cold tub.
• Garnish with a boiled egg cut into four, tuna, olives and corn.