Pooja Gupta, the tastemaker of I Design Studios fashions a fresh take on the elusive French aesthetic for a Weekend Home in Kanpur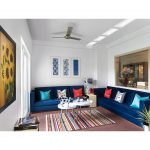 This 4BHK Kanpur weekend home spread in a 3000 sqft area. We say a weekend home because the house has been designed as a place for relaxation for the family. It is located in a lush green property in Kanpur and faces acres and acres of greenery and an impressive 1500sq ft garden and a swimming pool. Channeling the enigmatic 'je ne sais quois' French style in the project, Pooja Gupta, the creative force behind I Design Studios' interior aesthetic, explains her vision, "The clients wanted their home to be steeped in the unmistakable French flavor with personal touches in the form of objects and furniture with alluring backstories. They didn't want their home to be overly classical or stuffy, something that looked too decorated and had no soul. The French have a predilection for collecting history-laden objet d'arts—in doing so what they are essentially doing is preserving and guarding their artistic heritage for themselves and their future generations. This wonderful family too had a treasure trove of collectibles that they have amassed over the years from their travels—which are full of sentiments and nostalgia and add to the meaning of the scheme."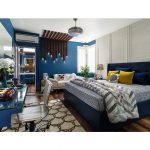 One of the statement places in the house, and also the introduction to the French aesthetics is the living room. The entrance has an enchanting beading work with a shoe console, while the inside has egg-shell hued walls and mid-century modern furniture which have an antique walnut polish adding to the whole yesteryear charm. The recognisable signatures of the timeless French style—such as the inviting turquoise-drunk Chesterfield sofa where cushions—with embroidered patterns starring and solids, lend themselves as an impressive ensemble cast.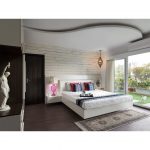 Adjoining the living room is a roomy balcony where a chic rustique narrative unfolds with a beautiful pergola, airy rattan outdoor furniture, mirrors made of hollowed-out tree stumps, potted plants, and not to forget the ceramic animal menagerie that's seen in other areas of the home as well. "The balcony is, hands down, my favourite spot—this is where I imagined the family to come together, cuddle, catch up—whilst savouring a sweeping view of the city," smiles Pooja.
When it comes to the bedrooms—master and guest-follow two diverse colour schemes, materials, and flourishes. "The mandate I received from the homeowners for the bedrooms was simple—to aim for modern-day comfort first and while you are at—bring in the character and personality," shares Pooja. So while the master bedroom conveys a dreamy softness and farmhouse bent—the guest bedroom, on the other, evokes coastal calm and Mediterranean liveliness. The master bedroom has a sitting space with two chairs for times when they wish to read or just be. There is no television in the room but there is a state of the art music system and even an armchair with a built-in speaker!
"A few things that did make us apply our creative juices was the fact that the wall in the client's son's room was decked up with handmade paper. This being crafted with hands did not have the same precision as a machine cut wallpaper and therefore the joining lines wrest as clean, that is when the beautiful beading came into place!" shares the interior designer. The son's room has a more vibrant feel to it. As he loves the colour blue therefore the room has been done in blue with cove lights and a very modern sensibility to it. It is not only aesthetically pleasing but also functional. This rooms beauty is the corner window. Adding to this mix of modern and French aesthetics is the recliner sofa!