JJ Valaya……
Transition from fashion to home interiors…
All progressive fashion houses globally, for instance, Ralph Lauren, Fendi, Armani, etc. have developed and successfully introduced their collections of furniture, furnishings and home
accessories. We are no diff erent in India and we have also decided to focus on this in equal earnest. The House of Valaya has been designing bespoke wall tapestries (embroidered)
since 1996, it is only now that we have extended the range to encompass furniture, furnishings and accessories.
Home decor trends borrow from fashion trends or vice versa…
Creativity is a free spirited bird, cage it and it shall eventually suff er. For us, inspiration is what matters, its interpretation can be through manifold extensions.
Fashion trends that could work well in home interiors…
I think fashion designers have an innate sense of colour, texture, proportion and balance, which works brilliantly when applied to anything creative.
Fabrics or textiles that could work perfectly as furnishing..
We are the royal nomads and I personally like sumptuous fabrics such as velvets, dupions and jacquards. However, while the past inspires me, I choose not to live in it, so I combine
modern man-made textiles and textures with natural ones to create a beautiful synergy.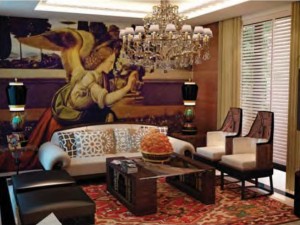 Furnishing trends you follow/would follow for your home…
I like neutral with surprises thrown in using colour and texture. I dislike homes, which are in beige and every room looks like the other one. I think its important to create experiences
and surprises in spaces. Furnishing is just one aspect of this. Th ere's so much more to piece together to complete this puzzle.
Current home furnishing trends…
I follow my instincts and trust my eyes.