Known as the David Copperfi eld of the art world in India, artist Vijender Sharma
is a thought provoking and magically realistic storyteller. His works, exhibiting narrative qualities are simple yet compelling. He has succeeded in creating an intimacy between the viewer and the art itself.
Determined as a figurative painter, one can sense a high level of spiritualism in his works, which convey a pure feeling of love and longing – perhaps understandably with his candid naturalism and bold use of colours. Apart from other mediums, illusion works are a common sight in the artworks of the artist, which can easily mesmerise you for long moments.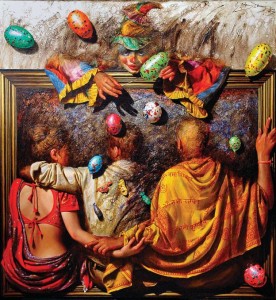 Vijender's paintings are a mix of classical and surrealist styles, fusing baroque irony and playfulness with almost scientific, Victorian imagery. Formerly, a painter of giant film billboards, Vijender is the recipient of the Sahitya Kala Parishad award, the Ravi Shankar award from the College of Art, New Delhi, and the All India Fine Arts and Craft s Society Scholarship.
Besides being an eminent painter, he is also a writer. He says, "My artwork, many of them are not muted in colour, but they are bold and powerful and always carry a story to narrate." Whether it is still life, figurative work or symbolic representation of the subject, Vijender pays great attention to detail using the play of light imaginatively thereby, adding an element of incredibility to realism, surrealism or illusion in his works. He uses simple idioms on simple subjects blending them with great effect, thus elevating his works to a level of spiritualism.
He has always painted dream worlds, a world that is only half articulate and leaves the rest to a strange eloquent silence. Using images from his childhood, religious iconography and the stories of the mythic and religious Indian epics, he creates an impact that is deeply private, resonant with modern myths and full of complexity.