As acceptance saunters our conventions during this questioned period, some Me-time decor spaces ascertained now can absolutely pose to be a priority in the long run. So don't let this self care become a burden as we have got you some really beautiful DIY space suggestions for your home that can be indulging as well as relaxing. Take a look-
1. Read. Relax. Rejuvenate
You can really loosen up by styling your own reading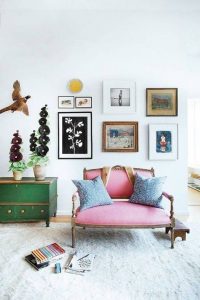 section in the living or drawing room for a restful reading. Prop up the area with your interesting volumes, armchair, wall art, mirrors, random found items, coffee table and rugs can surely decorate it into a space you won't feel like leaving. Accent lighting and flowers can ramp up the look, making the occupant feel more homey and cheerful
2. Music to escape
"Without music, life would be a mistake" as Friedrich Nietzsche grants us a very important note, a comfy set up to enjoy the genres can be a beautiful rescue. Guitars, docks, headphones, boom speakers and amps can surely accelerate positivity in the ambience and allow us to connect and enjoy the time. Deck up the area with these accessories that can be put in a trolley or a console and use a bright colour combination to create a charming corner.
Style Tip: A gramophone or a tape recorder can give a classic vintage look, allowing us to get engrossed in the notes!
3. Spa like feels
Survey says that the bathroom serves the best space for a private time as one goes lucent without any driven thought! Pampering yourself can be really stress busting and you can definitely create the aromatic aura inside your bathroom, no matter what the size is. Indoor greens, art work, essential scents, soft towels, plush robes, cozy mats and organized shelves are the game changers for your bathroom. This tranquil mix can indeed be rejuvenating!
4. Mindfulness
Create an oasis of peace and calmness amidst this chaos
by making your own meditation space. Place a woven pouf, mat some cushions, diffusers, earthen lamps and planters for a positive practise. This special reservation with careful design design details can be enlightening and strengthening. Leverage some space for this valuable purpose and guide your senses.
5. Swing with the vibe
Utilise one corner or window space of your home by attaching a hammock! Use any spare cloth for this creation and lay yourself for a pleasant nap ahead. Colourful cushions and throw can enhance the comfort zone, making a fell comfortable with the swayed feelings.
Sneak Idea: Get that Boho look by adding bright pom pom and a tufted mat beneath.
6. Work with Serenity
Working can now be luxuriously effortless. Accentuate
your study/ work space with the ferns, sticky notes, beloved photographs, fragrance, lamps and your favorite books for a productive experience. Such commitment can help to invigorate embellished thoughts which can be your friendly companions throughout the professional journey