Who doesn't like to dig their toes into something cushy at home? Carpets are not just another style statement, but a feeling of warmth and coziness combined. Let's dig in for some latest trends in the industry and bust some myths too!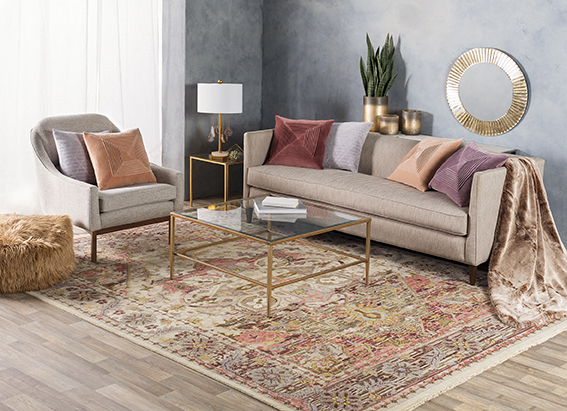 With the carpet-making industry providing us with hundreds of options of patterns, cuts, and colours, there are literally thousands of possibilities to satisfy any personal style and match any decor, because the hottest carpet styles are all about pattern and colour.
(Image: Cocoon Fine Rugs)

(Image: Scarlet Splendour)

(Image: Scarlet Splendour)

(CC-Tapis)

(CC-Tapis)

(Bent Chair)
A carpet does not just feel good, soft, and easier on the feet, it also gives a softer feel to the home. In fact, according to several studies they absorb sound, and carpets with padding further enhance this ability. Therefore, carpets have been the most popular floor covering all over the world for decades. But some common misconceptions deter people from buying one. Let's bust some, shall we?
Myth: Asthma and allergy sufferers should have carpet in the home.
Fact: Carpet can help you breathe easier. Carpet acts as a trap for allergens and is capable of holding significant quantities of soil, dust and other substances. The carpet holds on to the particles until you are ready to remove them.
Myth: Carpet is hard to maintain – it stains and wears out very easily.
Fact: Simple steps can extend the life of your carpet and keep it looking new. Frequent vacuuming removes soil particles before they get below the surface of the pile, where they are far more difficult to remove.
Myth: Thick carpets are better.
Fact: Thick carpets are better if you like a plusher feel. However, thick carpets are not better if you want a more durable carpet. Density (more yarn per square inch), will provide better durability.
Myth: Mould and mildew can grow in the carpet.
Fact: Mould and mildew exist only where there is excess moisture and dirt coupled with poor cleaning and maintenance habits. Mould growth can occur on any surface from window panes to carpet that is not properly maintained and when moisture is extreme.