A one of a kind automotive artist, Vidita Singh traces her
lineage to the royal family of Barwani. A princess, a painter
and an epitome of elite conduct, Vidita is identified as the
first female to pursue automotive art in India
Impressions: Benoy Sebastian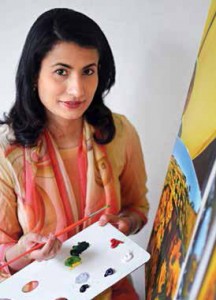 Born, into the royal family of Barwani, Vidita Singh was brought up in a family of automotive enthusiasts, who are passionate about cars – her father H.H. Rana Manvendra Singh is a renowned figure in the Indian automobile industry, and a pioneer in the field of automotive restoration. It was only inevitable that automobiles would be reflected in her art. Vidita feels a passionate need to preserve India's automotive history and tradition. And, her canvases accommodate this purpose.
Her collection of art works include Rolls-Royces, Bentleys, Dusenbergs, Corvettes, and other timeless beauties gracefully framed against a range of backgrounds that go from royal palaces to hills and hunting scenes. The artist says, "I want to portray these marvellous machines as they would have been during their early existence in India". Her paintings reflect a nostalgic and often resplendent aura.
Although most of Vidita's paintings adhere to a realistic style, she likes experimenting with art deco as well. Interested in the art from an early age, her paintings themed on cars, have hoisted her to the National stage and now she has completely immersed herself into the world of paintings. Vidita has managed to portray automobiles and the special relation automobiles had with India in a manner that has earned her National acclaim.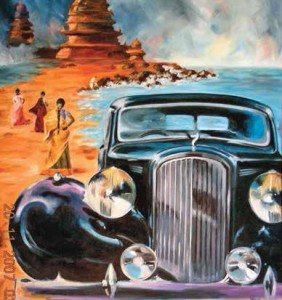 Vidita's has been featured on television shows like BBC's 'Wheels' and NDTV India's 'Raftaar'. She has also been featured in automotive and lifestyle magazines. Vidita has done a painting for Ford Motor's centenary celebrations, which hangs in the office of the MD of the Ford Motor Company, India. She was also commissioned to create a painting for Hyundai Motor Company, India. Vidita has been featured as an upcoming automotive artist on the Dutch website carartsport.com.
Email: viditasingh@gmail.com