Truly experimental in materials, porosity and style, the studio space by MakeSpace Architects inherits the subtlety of contemporary interiors using shades of grey and retaining the originality of natural material. The aspiration was to entail Intuitive and semiological order in the basic layout. The space with its order and hierarchy shall narrate its localized usage. Resulting in the genesis of a sensory game.
(Interior Photography by Kunal Bhatia)
The layout is laid out in a hierarchical manner with physical restrictions but visual porosity. The plan is divided into 4 zones, namely the Buffer zone (Reception), The Idea box (Discussion room), The Team Zone (Workstation area) and the Cabins. The interior surfaces are finished with muted grey palette of Concrete, in contrast to its furniture which is finished with a subtle oak wood veneer. Grey being a combination of black and white, balances the color palette becoming a non-monotonous and stable color which can imbibe different emotions in different lighting conditions both natural and artificial. The use of natural material like leather, birch plywood, stone helped to retain their primal properties of color and texture.
The workstation area looks interesting, playing with axial lines both vertically and horizontally which helped to achieve a sense of symmetry in plan and equilibrium in materials. One of the cabins inherits a monochrome approach using shades of grey of leathers ranging from Napa grey to Indian grey while the other cabin breaks the monotonous nature of concrete and sets a contrast with natural finishes to add the highlight. The seamless glass box of the discussion area incorporates an idea of design where the contemporary conventional architecture meets the future of parametric design.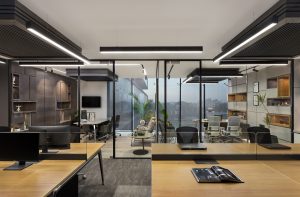 The studio grabs the attention to every detail, that embodies new techniques with natural materials to leave a lasting impact on both the viewers and the users. The entire ambiance is a perfect assimilation of parametric and contemporary architecture through rustic elements.