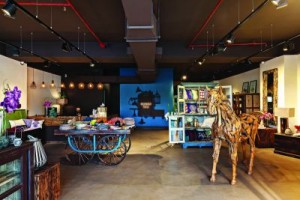 Our design journey took us to Ahmedabad, where we came across the beautiful travelers home store. With an array of designs from across the world, this is a clear showstopper
Impression: Benoy Sebastian
Travelers Home was born when Ruchira Shah Asnani, curator and space stylist and Ariane Thakore Ginwala, an established interior designer decided to give wings to their creative ideas. After lot of deliberation and brainstorming sessions, they came up with Travelers Home, a store with a curative attitude and difference -a place where you'll come across all types of products picked up from across the globe.
The name suggests, is an ever evolving traveller. The ethos and conceptualisation behind the store was to provide a truly global experience. The look and feel of the store is encrusted with elements that relate to travel and the globe trotter. The products displayed at the store have been carefully and selected by Ruchira herself, an avid traveller. Travelers Home is her concept driven playground for artifacts and decor products, unique limited edition pieces from the India and across the world.
The products are from different places Europe and Indonesia. A few Indian companies with unique design language and a global level finishing also find space at travelers Home. The products are picked considering the lifestyles,the lack of availability in the Indian markets and with discerning eye for equality. Good thing about the store is there is no repetitive products.The ideology of the store is to keep evolving constantly .
Once the hardcore interior of a space are done- the colours and textiles,detailing and the accessories bring life space. It is this quarter  of interior that Travelers Home addresses ,which has been aptly named as " Space Styling".
Ruchira further states that Travelers Home goes beyond the call of interior at times upon the insistence of clients. They give consultation on how to use the products for styling spaces by doing site visits for projects and sources products specially for a project. The project vary from utility,  functional to purely decor pieces. The exhibition gallery adds variety and an element of constant evolution to the store.