Architect Vistasp Bhagwagar's ability to interpret the client's vision and translate it into a beautiful and functional design, while exceeding the client's expectations is his strength. A chat with the renowned architect…
Impressions: Benoy Sebastian
How would you describe your signature style?
Our staple work is designing modern and contemporary work spaces. In fact, we have no signature style as such. In the quick changing world of architecture, styles don't matter much. We are experimental and contextual in our response to clients, their briefs and the sites, which I believe all responsible architects should be. But, we do have a signature approach towards work, which is innovative, imaginative and eclectic.
Which is your favourite project?
I value all the projects. There are no favourites as such. I am passionate about projects that allow us to deviate,
disrupt and deconstruct. A particular favourite is the Knight Frank office at Gurgaon and Jabong.com. Both the
office designs allowed us to express a raw earthiness and rusticity within the work environment. We love our work
in projects that permit us to design honestly and in relatively tighter budgets, as this forces us to think from basics, and be honest to the materials that we use.
What do you feel is the greatest challenge when it comes to designing for environmental sustainability?
The greatest challenge in sustainable design is being true to the spirit of the task, rather than just trying to accumulate the necessary LEED points to achieve a certain green rating. Often, the purpose is lost if one loses the overall picture. In reality sustainable interiors are those that allow to 'reduce, reuse and recycle'.
Can you tell us about the house you grew up in?
The house I grew up in was in a South Delhi colony surrounded with Gulmohar trees. Somewhere the affinity for nature stems from there.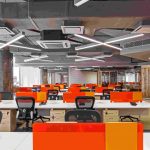 What inspires you?
Good work from all direction inspires me. It need not be any one architect or designer. It can be any nationality.
But of late, the Campana Brothers and their work is truly inspiring.
What is your ultimate goal when it comes to your work? What do you want to be remembered for?
The ultimate goal is to create a portfolio that is wide and all encompassing. One that is not repetitive; but, instead has a repertoire of creative and thoughtful work. Anyone can do template based designing, ape a style and then repeat it again and again. But, it takes true guts and glory to reinvent, reinterpret and reincarnate. That's what we set out to do everyday in our lives!