Designing a girl's bedroom is all about choosing the right layout, furniture and colour palette. The recently completed project in Malabar Hill, Mumbai by Twisha Thakker of TTDS for a young resident follows the same rule with a space that has lively and colourful vibes.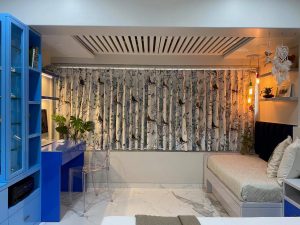 A girl's blue den – that is how Twisha describes her recently completed project for a young and a cute client. What is more exciting? "Even before Pantone declared the colour of the year, we knew what we wanted to do with the space," laughs the designer who has used shades of blue to give an everlasting appeal to the space. The 3BHK home belongs to Reshamwalas' and is still under renovation, however, it's their daughter's 200 sqft room that evokes interest.
Knowing their daughter's growing age and love for collecting souvenirs, the main requirement from the parents was to have enough storage space for her school materials as well as her books and board games. The parents and the daughter were also very specific about a colourful and lively room where the girl could display all her curios and favourite things.
As you enter the room, the light and airy feel make the room more spacious and the décor is just perfect for the teenager and her pet Hamster Gus. "While interacting with the owner of this room, I gathered that she loves reading, playing board games, collecting curios and dreamcatchers. You will see many closed storages in her room to keep her things safe from dust and organised as well," shares Twisha.
The team wanted to break the monotony of a regular pink room and picked a colour palette that will make the space more energetic and stylish. While Twisha decided to keep the walls in bright grey, the shades of blue in the wardrobe, curtains, study tabletop, etc were picked for their inviting appeal. All her favourite things like a cuckoo clock, dream catcher and the anchor-shaped light sit perfectly to add to the overall décor. We loved the cosy library corner next to the beautiful blue study table which is an ideal hide-out place for the owner with her favourite reads and some greens, which is set up in the extended grill area at the window. The daybed works as her oasis and since she wanted coloured lights, the designer installed LEDs on the ceiling and back of the bed that changes colours. The study and library shelves also have LED strips under them in such a way that the fixture isn't seen, and it leaves a soft hue of light to create the perfect ambience and highlight for the curios displayed.
There is more than enough room to be creative when designing a girl's bedroom. Twisha considered all the factors well and made the space comfortable while adding an expression of the resident's personalities.