A bookstore, a restaurant and a shop, Cook & Book gives an extravagant avatar to the idea of book cafes. It houses nine reading sections decorated in vivid themes, nine lunch and diner spaces, a publishing house
and the largest terrace in Brussels. A comic section is located at the entrance, furnished with warm wood and life size replicas of Superman, Batman, etc.- making it most loved by children as well as adults.

Another travel section pays a tribute to the traveller's soul through an Airstream caravan. The art section holds an impressive collection of art books for the enjoyment of neophytes, professionals and others. The music section takes you on a quick tour of musical works from diff erent eras with CDs, books and vinyls from across the globe. In the greenhouse section, you will fi nd everything related to home, décor, garden, beauty and much more. The Literature section is adorned with a geniune literary ceiling, with 800 books hanging right above your head.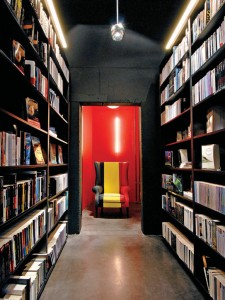 The Lucina section is dedicated to food from across the world while the section called as English Books is decorated as a play on typical British cliches.