A hilltop villa wrapped up in warmth and glamour
An urban home wrapped up in the warmth of extensive wood paneling and soft hues, this duplex apartment designed by Nitin Kohli of Nitin Kohli Home is all about richness of natural stones. Touches of golden accents in the furniture and accessories add sophistication to the 6,000 sqft apartment.
In totality two floors were converted into a duplex apartment with a subdued colour palette, with shades of blue as the accent colour. Meticulous care was taken to reflect the owner's desires and passions through the interior decor.
Level one of the apartment consists of the entrance foyer, with living room, dining room, guest bedroom with attached bathroom and a powder room forming the formal entertainment zone. There is also a large kitchen on this floor. The door opens to a foyer of urban sophistication of warmth and glamour. A partition in symmetric niches, but broken in asymmetric display of accessories separates this area from the rest of the formal entertainment zone.
On climbing up, you can feel the vibe transform. You are greeted by the warmth of textured painted walls and onyx cladding. This is because as the private area of the family, level two houses a pantry-cum-dining, a master suite with attached dressing room and bath, and separate rooms for the two children with attached bathrooms. The bedrooms are simply what they should be – elegant and soothing sancturies.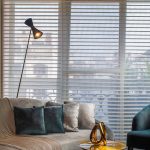 The master bedroom sees a minimal art deco bed with a good mix of modern chairs, while the walk-in closet and bathroom are done in classic shades of white and grey marble with light beige toned wardrobes. It's a home where a refined colour palette and textures set the right tone for each space.