Three different décor styles, multiple elements, but one clear vision of beauty. A wonderful decor collage where the best of all that is diverse combine to uplift the home of a loving family.
Contemporary, Neo-classical and traditional Indian décor styles have very little in common and yet the talented creativity of Dhaval Shellugar and Farah Ahmed of FADD Studio brought them seamlessly together for this home for the Hedge family. Dipped in elegance and style, this house reveals the best of design vision that brings together diverse styles.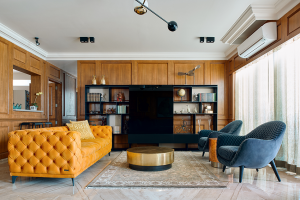 Dhaval and Farah have specifically used vibrant and tropical colours for the common areas of the home for drama and energy. The living room is a combination of mustard, leaf green and blue that give it an inviting allure that would ensure a relaxed time here. The bedrooms, however, we designed using mostly soft and muted tones.
The dining has a classically carved table that was placed with the marked intent of family and social dinners. And the chairs have special upholstery using a fabric depicting an Indian procession in progress that is both striking and meaningful. On the dining wall is a striking collage of old and new images framed in a particular way using curved edged and off-centred vignettes to provide an overall vintage feel.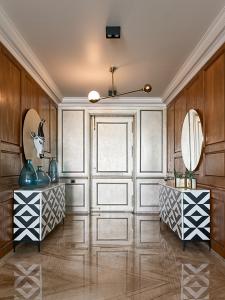 Throughout the home, contemporary accessories are placed all over. Brass and champagne highlights are seen here and there to give it boosts of elegance. These include the bar that is champagne, the coffee table has metal details, the lights are predominately brass and the main door is champagne leafed.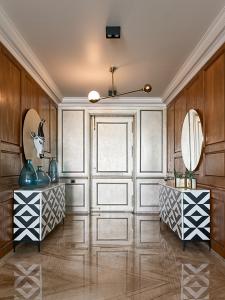 On either side of the main door are two geometric consoles in black and white. A bull's head is above one console and a mirror over the other. This dramatic entry sets the tone for the rest of the magnificent house that is profound in the impact that it has on the moved viewers indeed.