DB Crown, DB reality premium residential project at Mumbai's Prabhadevi. where luxury meets opulence.
IMPRESSION: Benoy Sebastian
IMAGES: Nisha Drego
Situated in Prabhadevi , DB Crown offers the most sought after comforts in South Mumbai- luxury, location and most importantly the space.The three towers of DB Crown once completed would have breathtaking views that would encompass both,the skyline and the shore line of Mumbai. The apartment will offer you the views of the Arbian Sea the bandra-worli sea link and the eastern harbour, which would leave you spell-bound. With a ceiling height not many can claim of space and grandeur. Truly a premium property.
THE SETTING
DB Realty's, DB Crown offers 4-BHK,5 BHK and duplex of 5-BHK and 6-BHK apartments. Once completed would spread across an expanse of seven acres.The first residential floor start for 18th level. A multi level parking space would add to the attraction.
THE BEST BET
As proud resident at DB Crown, you will feel indulged amidst the state-of-the-art amenities. Spatial comfort would clearly be indicated with the presence of huge balcony areas in every apartment. Safety would be the prime importance with the installation of video door, phones in the apartments intercom connectivity to all apartment, elevators with access control and earthquake resistant design.In addition, the tower would be equipped with modern fire fighting and safety system too.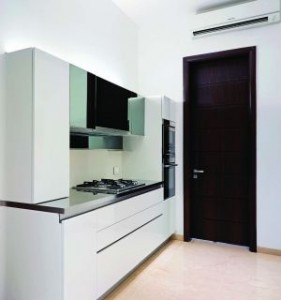 THE EXTRAS
DB Crown would have a carpet of lush green podium gardens spanning around three acres.In addition, lavish club house, the gym along with the fully equipped health club will ensure that you can avail of these right at your doorstep. After swimming you can rejuvenate your senses at the spa and the meditation room.These pillars of luxury and facilities give DB Crown a regular air,suggesting that life indoors can be king size.
CONTACT:
DB House, General A.K.
Vaidya Marg,
Goregaon east, Mumbai
CALL: (002)-40778600