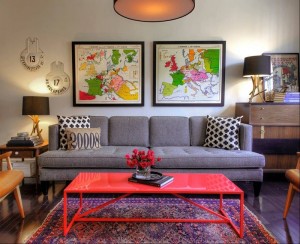 www.zen.homezada.com
Your living room is the space where all the 'days happenings' take root. You also call it a comfortable space. A place where often all members of the family gather and hang out to watch TV or for hi-tea or for general chit-chat. Then it surely makes sense that the room should look nice and reflect the personality of the people who reside in the house. It's time for an update for the living room.
                                                                                              www.hgtv.com
Check out these simple techniques, which will go a long way in making a statement.
Sufficient Lighting: Correct lighting can make all the difference for comfort, space and style. From recessed lighting that's built into the ceiling to lamps placed on tables and the floor of the room, they can be converted into mood lighting. You can add lamps, fixtures and even candles to illuminate your home's living room.
Lively Plants: It's no secret that houseplants spread life into the room. They especially look stunning when grouped together in a space. Believe it or not, they have incredible health benefits too. They will increase the level of oxygen, purify the air, and boost humidity levels in order to minimise respiratory problems.
A beautiful Rug: Wooden flooring have a different charm of their own. Add a colourful rug to bring some warmth into the space. It will compliment your decor too. Also, a rug can be a great accent piece in your rooms overall look.