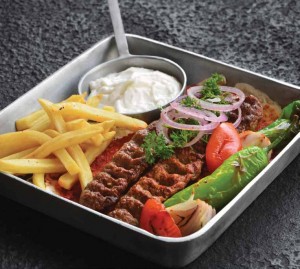 An amalgamation of global cuisines with a twist of regional flavours, multi-cuisine restaurant Glocal Junction, in Mumbai offers iconic dishes in a renewed glocal avatar. Global experiences, diverse ingredients, varied cuisines and classic techniques merge seamlessly, thereby offering a global delicacy which is local at heart!
You need
500 gms lamb (bone less)
80 gms fat
15 gms flat parsley
50 gms onion
25 gms red jalapeno
25 gms red bell pepper
5 gms mint (fresh)
10 gms garlic
1 gm seven spice
powder
1 gm black pepper
1 gm cardamom powder
1 gm sumac powder
1 gm paprika powder
10 gm salt
You must
• Clean the lamb.
• Marinate with seven spice powder, black pepper, cardamom powder, sumac powder, paprika powder and salt.
• Mince the meat well.
• Add the fat.
• Knead well and check for seasoning.
• Put the mince on skewers and grill to perfection.
• Garnish with onion rings, red jalapeno, red bell pepper and flat parsley.