Overlooking the South Dock with stunning views of the Canary Wharf and the City, the botanically-inspired Wardian London offers an extensive private sky garden to each resident
Impressions: Benoy Sebastian
Wardian London is inspired by the Wardian glass case, created in the 19th Century in East London by Nathaniel Bagshaw Ward to transport exotic plants around the world. In keeping with the design roots of the building and its namesake – leading experts in roof gardens, have collaborated with Wardian London to make innovative flat-pack gardens. The apartments at Wardian London combine contemporary elegance with subtle, signature Wardian touches. Kitchen cabinets incorporate glass cases. The apartments feature natural materials such as marble, wood and glass for a stunning look, while their organic patterns are harnessed as if artworks.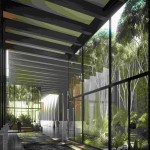 Each apartment comes complete with a generous private garden. Floor to ceiling windows maximise sight-lines and illuminate the apartment in the stunning Docklands light. Whether your tastes lean towards modernist furniture or classic vinyl, Wardian will be the perfect place to relax or invite friends over.
Alongside the apartments, Wardian London will contain a landscaped public plaza with more than 100 species of plants and flowers, a vibrant rooftop observatory bar, two restaurants and a 25 metre open air swimming pool set within a flourishing tropical environment. The West tower of the building will also feature the serene 'Western Garden' – a large landscaped area extending to four storeys. Just like their other projects, Ballymore will continue to manage the development after completion; in order for the residents to benefit from an exceptional level of service, including a 24 hour concierge.
FACT FILE
Name of the project: Wardian London
The Builder: EcoWorld Ballymore
Location: Canary Wharf, UK
Number of towers: 2
Marketed by: Knight Frank