Spaces Flowing Seemlessly Towards Perfection
The Panther house designed by Aparna Kaushik makes the best use of nature with daylight bathing the corridors and large windows framing the garden views. Located in plush green area on the outskirts of South Delhi, this villa boasts the best of tropical architecture, pristine white marble flooring and large windows.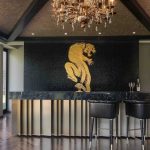 The waiting area is one of the best places of the house – right at the entrance, a stylish street lamp post flanking a floral chaise and oversized black planters arranged in a row give a strong lead up to the pool area. Coconut shell panelled ceiling complement the nature pouring in through the glazing.
The long corridors running across the villa are clad in Italian marble that creates a luxurious ambience, which is enhanced by designer consoles and surreal paintings. In place of a looking mirror the designer installed a print of centuries' most famous self-portrait by Rene Magritte 'The Son of Man.'
It depicts a man in bowler hat whose face is obscured by a hovering green apple with his eyes peeking over the apple's edge. This element of surprise and unexpected juxtaposition exaggerates the drama in the house.
The tall glazing in the family lounge allows nature to pour in and make the area look more grand and serene. The home theatre is designed with black furniture and black fabric along the walls. By placing a tiger-striped carpet on the floor, Aparna broke the monotony of black by introducing a bright colour to the home theatre colour palate. With the amalgamation of traditional and modern elements the overall furniture complements the design and aesthetics of the Panther house.