An enchanting house that transports you between the greens and the sky
Brinda Somaya of Somaya and Kalappa Consultants has designed a mesmerising home taking direct inspiration from the magnificent Banyan trees that stand as guardians on the two-acre plot of land in the village of Awas in Alibaug, Maharashtra.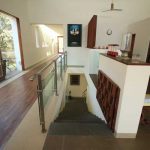 Spread across two floors, the ground floor seamlessly integrates with the landscaping. The structure is connected using verandahs and glazed corridors that have magnificent openings framing nature and looking onto the gardens below. A pool embraces the back of the structure warmed by the southern sun and is connected to the building by a linear axial Malad stone wall.
The ground floor houses two bedrooms and a storage room with a linear staircase. As one enters the first floor a large outdoor terrace overlooking the incredible coconut groves comes into view. The final two bedrooms are found upstairs containing large spaces with high ceilings and ensuite bathrooms. A floating deck emerges at the end of the linear corridor, sitting majestically among the branches of the banyan trees.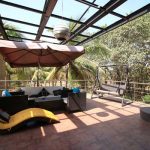 The house has been filled with antique four poster beds and pieces handed down from generations. And Madhubani artists were commissioned to draw on internal and external walls bringing in a sense of detail and colour into the spaces. Each space in the house with its varied pieces is meant to represent a person or a story that the house is aching to convey.